Taiwan earthquake: Child rescued from rubble days after Tainan apartment building collapse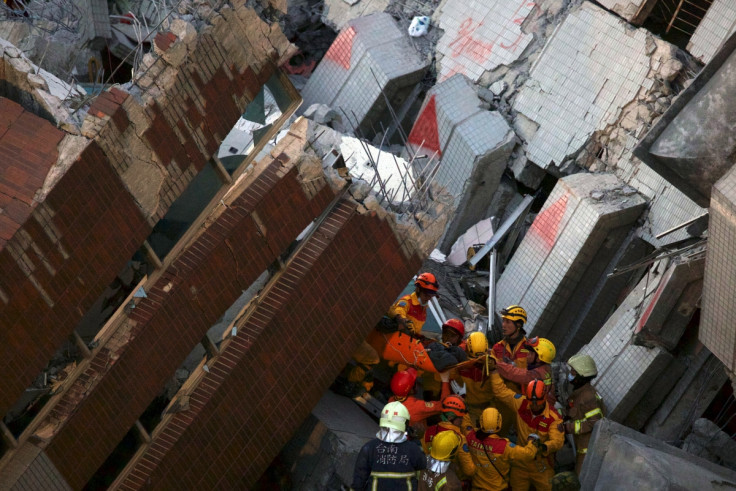 An eight-year-old girl and a woman became the third and fourth survivors to be pulled from a collapsed apartment building in Taiwan on Monday (8 February), two days after a powerful earthquake struck the island nation. The child, named Lin Su-chin, was dug out of the fifth-floor section of the toppled high-rise in the southwestern city of Tainan.
"She is awake, but looks dehydrated, lost some temperature, but she's awake and her blood pressure is OK," said Mayor Lai Ching-Te. "I asked her if there's anything wrong with her body. She shook her head."
Rescuers also successfully reached a 28-year-old woman who had been trapped in the same area. More than 100 people are still missing under the rubble. Earlier, a 42-year-old man named Lee Tsung-tien and a woman identified as Tsao Wei-ling were saved from the folded 17-storey building.
Tsao survived thanks to her husband who sheltered her from a collapsed beam. Rescue teams said they found her shielded underneath his lifeless body. Their two-year-old child also died in the quake.
Father and son were two of at least 37 people killed by the 6.4-magnitude tremor. The vast majority of the victims lost their lives in the high-rise collapse, which raised questions about the quality of the structure.
Authorities have ordered a full investigation into the construction of the Weiguan Jinlong complex, which was the only building to collapse completely as the earth shook at 4am local time on Saturday (6 February). More than 170 people have so far been pulled alive from its debris.
Built in 1989, the high-rise had survived a previous 7.6-magnitude earthquake that killed more than 2,300 people in Taiwan in 1999.
© Copyright IBTimes 2023. All rights reserved.