Tamara Pisnoli: Ex-wife of football star Daniele De Rossi in handcuff selfie after kidnap arrest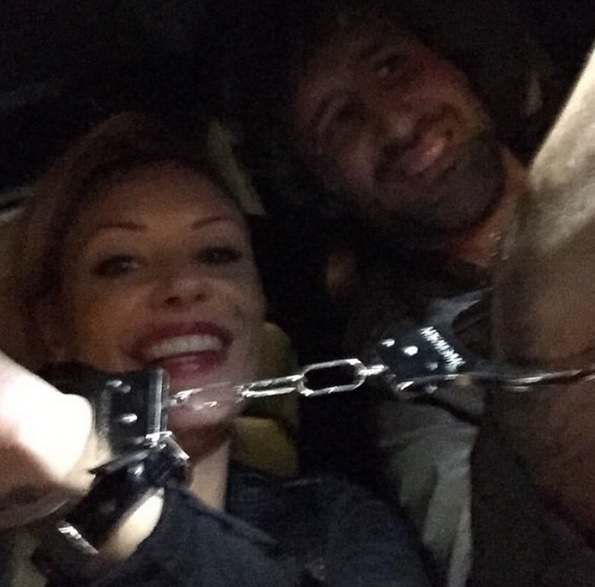 The ex-wife of Italian football star Daniele De Rossi triggered a torrent of online criticism for a selfie posted on social media by her new partner, after she was arrested over a kidnapping.
Tamara Pisnoli, 31, was held by police for allegedly being part of a gang that abducted, beat up and threatened to kill a Roman businessman to extort money from him.
After the arrest, her current partner, French billionaire Arnaud Mimran, posted on Instagram an old photo of him and Pisnoli handcuffed together, with a caption reading "always with you".
Meant to show support to Pisnoli, the photo sparked outrage online, as many accused the couple of glamourising crime.
'Forcibly taken from a bar, beaten and threatened with a knife'
Pisnoli, who was married to Roma and Italy international De Rossi from 2006 to 2009, is facing a series of charges including extortion, robbery, and bodily harm.
Detectives said she and seven accomplices organised the 2013 abduction of a man she had been in business with.
The man told police he was forcibly taken from a bar in the Italian capital and brought to Pisnoli's flat in the city, where he was beaten and threatened with a knife.
The abductors allegedly demanded he pay €200,000 (£157,000) within five days - or face death.
The man claimed Pisnoli told him he could be easily killed as all she had to do was pay an Albanian hitman €10,000.
He said he was robbed of his Rolex watch and €900 in cash before being released after a few hours.
Prosecutors allege Pisnoli claimed the victim owed her money following a failed business deal.
The judge who remanded her to house arrest said she is a "violent woman, accustomed to oppressive and intimidating behaviour who manages her large wealth with the support of the criminal underworld," Ansa news agency reported.
Pisnoli's father, Massimo, had a police record for robbery and theft and was shot dead near Rome in 2008.
© Copyright IBTimes 2023. All rights reserved.