Minecraft: Pocket Edition 2 is unofficial, not developed by Mojang but is an App Store chart topper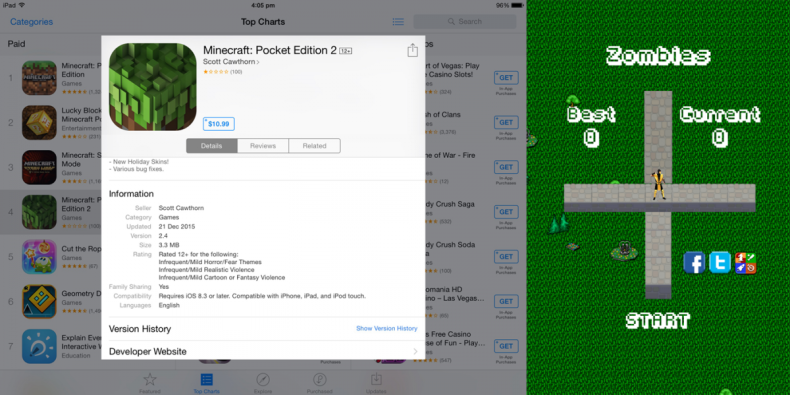 The mobile games market is full of cynical, money-grabbing pap, but not much as egregious and shameless as Minecraft: Pocket Edition 2, a game declaring itself to be a sequel to the hugely successful mobile version of Mojang's Minecraft, but which has nothing else to do with the series or its developers.
Despite this, the paid-for app, which is £4.99 in the UK and $10.99 in the US, sits in fourth place on Apple's App Store chart for paid-for titles. Meaning it is already raking in a serious amount of money. The game was posted on Reddit's Games subreddit with the screengrabs you see in this article.
What is the game? That might be the worst part. It barely resembles Minecraft, and is inside a swipe game featuring waves of zombies attempting to attack Scorpion from Mortal Kombat (Eurogamer were the ones to take the plunge and buy the game).
Released just prior to Christmas, the game's description paints an entirely different story. "Minecraft is a game about breaking and placing blocks. Minecraft II is taking those activities to a whole new level of excellence and uniqueness. At first, people built structures to protect against nocturnal monsters, but as the game grew players worked together to create wonderful, imaginative things.
"Explore randomly generated worlds and build amazing things from the simplest of homes to the grandest of castles. Play in creative mode with unlimited resources or mine deep into the world in survival mode, crafting weapons and armour to fend off the dangerous mobs."
The game's listing claims its developer is Scott Cawthorn, which is likely a fake name given whoever is responsible for this will have known what they were trying to do. It is also the same name as the developer behind the Five Nights at Freddy's horror series. Other games for sale from the same made-up name include rip-offs of Five Nights and Mortal Kombat.
When the game loads up it's said that the game has been developed by a Viktor Todorov, who Eurogamer has sought comment from. It also reached out to Owen Hill of Mojang, who said: "It's great that Minecraft has inspired people to create amazing things, but when a product attempts to dupe our community or exploit their enthusiasm for the game, it's our responsibility to step in. Our dedicated enforcement team are extremely busy!"
The game is sure to be pulled from the App Store imminently, but questions remain over how it made its way through Apple's moderation process in the first place and whether Apple will offer refunds to those who have been duped.
For all the latest video game news follow us on Twitter @IBTGamesUK.