US retailer GameStop may have revealed the release date for 2K Games and Hangar 13's open world crime romp Mafia 3. A pre-order slip in-store says that the game will be released on 26 April, whereas until now the game had only been given a vague 2016 release window.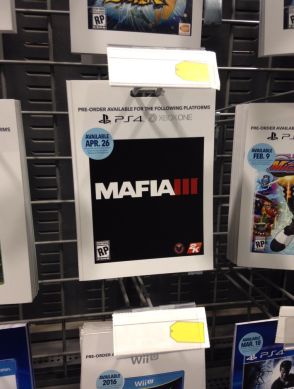 The release date was spotted and sent to IGN who sought 2K Games for comment. The publisher's reply neither confirmed nor denied the date, saying: "Mafia 3 will release in calendar 2016 during Take-Two Interactive's fiscal year 2017."
The fiscal year starts in April, so the leaked date would certainly fit. "No official release date has been announced at this time. It is common practice for retailers to list placeholder dates before an official release date has been announced due to the requirements of their operating systems."
If it is a placeholder date, it's certainly a strange one to have. Normally retailers default to 31 December for a placeholder. The pre-order slip mentions only the Xbox One and PS4 versions of Mafia 3, and not the PC version – indicating that they may not release at the same time.
Mafia 3 was announced back at Gamescom 2015. It is the follow-up to 2010's Mafia 2 and will follow a new protagonist – Lincoln Clay – in 1960s New Orleans as he builds a criminal empire and seeks revenge on the Italian mob.
In December 2K released a 12 minute first look at gameplay.
For all the latest video game news follow us on Twitter @IBTGamesUK.