Tech to the skies: United Airlines joins paperless rivals with iPhone 6 Plus roll-out to cabin crew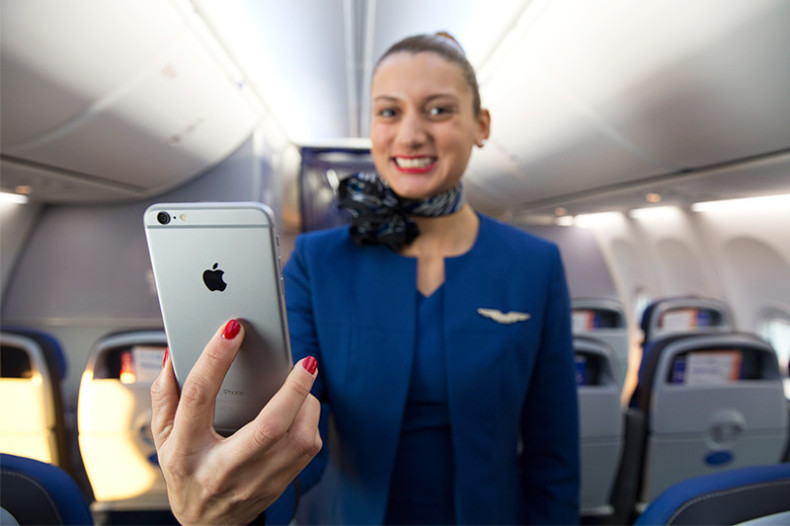 United Airlines is to give 23,000 flight attendants an iPhone 6 Plus each to process passenger payments, log cabin issues and repairs, and replace their printed safety manual.
The iPhones will be rolled out to staff on all mainline flights during the second quarter of 2015, and will also give cabin crew access to their work email, the United Airlines website, and the company's intranet, plus manuals for flight procedures and policies.
Giving its staff iPhones follows United Airline's deployment of iPads to pilots at the start of 2011, and both initiatives form part of the company's plans for completely paperless aircraft and flight decks. Earlier this year, the airline upgraded its pilots' iPads to the iPad Air 2.
Rival Delta Airlines announced last year that it would give Microsoft Surface 2 tablets to its 11,000 pilots, plus 19,000 Windows Phone handsets to flight attendants for processing retail payments from passengers.
Meanwhile, in the UK Virgin Atlantic has experimented with both Google Glass and smartwatches, aimed at giving airport staff up-to-date flight information and details about specific passengers. The airline is also believed to be interested in using the Samsung Gear VR headset as a virtual reality training tool for its pilots.
Cabin crew on British Airways' business class-only flights from London Heathrow to New York JFK carry iPads to give passengers live progress updates on their flight, while all 3,600 BA pilots each have a company-issued iPad.
The boom of in-flight gadget use is the result of both the FAA in America and Europe's Aviation Safety Agency allowing the use of smartphones, tablets and other devices during all stages of flight by staff and passengers. Growing adoption of onboard Wi-Fi has also helped spur the airlines into slackening their rules for connected devices.
"We are thrilled to make this investment in our flight attendants," said Sam Risoli, United's senior vice president of in-flight services. "iPhone 6 Plus will enable them to deliver an even higher level of flyer-friendly service and will offer our flight attendants simple, one-touch access to valuable work information, enabling them to better serve our customers."