18-year-old Michael Squier from Florida claims infamous model Alisha Hessler – also known as 'Jasmine Tridevil' after claiming to have plastic surgery to add a third breast – kept him as her "caged sex slave" for two weeks.
Squier told The Sun that Alisha, 21, tied him to a post and flogged him, made him wear a dog collar, had her name tattooed on his foot, and carved her name in his chest with a knife – claims the model denies.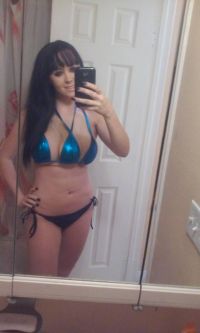 "On the night we met she tied me up and flogged me against a post," says Michael. "She then got me really drunk and said she wanted to cut me. I was completely wasted and she started to cut her name into my chest. I was screaming and she kept telling me to be quiet."
Hessler, who continues to insist she has had a third breast attached to her chest, despite widespread scepticism, denies Squier's version of events.
"Yes he stayed in my cage," she explains, "and I kept him as a slave. He stayed at my house for over two weeks. I let him stay because he was homeless. He had to do what I told him and he liked it. He cut himself. It wasn't me."
Perhaps the most serious claim by Squier concerns Ms Hessler's third breast.
"Whenever I tried to touch it she would pull away saying it was too painful to be touched. Then one night she just pulled it off and smiled at me. I was not sure if it was fake at first but after a while it was just so obvious. She used some sort of glue to stick it between her two other breasts."
'Tridevil' continues to insist her third breast is genuine and that she was filmed having it attached.
On her Facebook page she posts photos of herself wearing a 'trikini', provoking comments of both support and abuse – mainly known.