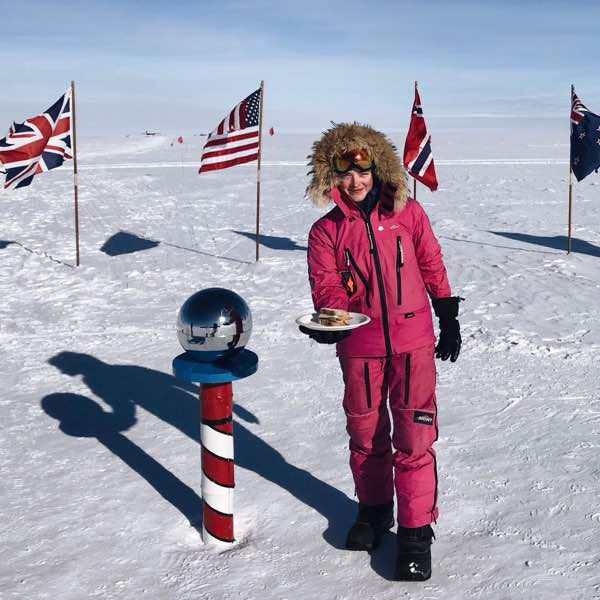 A teenage explorer has hit back at misogynistic trolls who told her to get back in the kitchen and make them a sandwich – with an epic response all the way from the South Pole.
Jade Hameister, 16, has just become the youngest person ever to pull off the polar hat-trick – trekking to both poles and across Greenland, a total of 1,200 km and four months on ice. Aged 14, she became the youngest person, male or female, to ski to the North Pole, accompanied by only her father, a cameraman and a guide.
Hameister delivered an inspirational TEDx Talk in August 2016 encouraging young women to think creatively, dream big about what they want to do and ignore society's pressures. She told the audience: "Don't be overprotective of me just because I'm a girl."
She also questioned: "What if young women around the world were encouraged to be more, rather than less? What if the focus shifted from how we appear, to the possibilities of what we can do?"
Trolls tried to drag her down, telling Hameister to go and "make me a sandwich" – in other words accept her place as a woman in the kitchen – in the YouTube comments. Another man wrote: "Sorry little lady - you were designed to be a home maker, have babies and take care of them. Not to trot around in snow to prove a point. Accept your role or be forever unhappy."
A year on from the that speech, Hameister has finally got served her revenge – cold.
Writing on Facebook on 13 January, while she was still on her latest expedition, Hameister said: "Tonight (it never gets dark this time of year) I skied back to the Pole again... to take this photo for all those men who commented "Make me a sandwich" on my TEDX Talk. I made you a sandwich (ham & cheese), now ski 37 days and 600km to the South Pole and you can eat it xx" She added '#bravenotperfect', summing up her attitude to the trolls.
Hameister has since returned home to Melbourne and told ABC News she made the kilometre journey to the South Pole with a sandwich "just as a laugh". She also said she was "not really fussed" about breaking records. "For me it's just the experience and the environment that no-one else really gets to see."
Facebook commenters, male and female alike, were impressed at Hameister's tenacious response to the trolls. One wrote: "You're [sic] one tough woman! Good job!" Another said: "What an inspiration your achievements will be to young women everywhere. Outstanding. Onwards and upwards." Several told her to enjoy the sandwich, since no-one else would be arriving to eat it.
Hameister's journey was captured on camera by National Geographic, who will release a feature-length documentary later this year. She is also working with Pan Macmillan Australia on a book about her expeditions – although she still needs to find time to get through Years 11 and 12 at school.