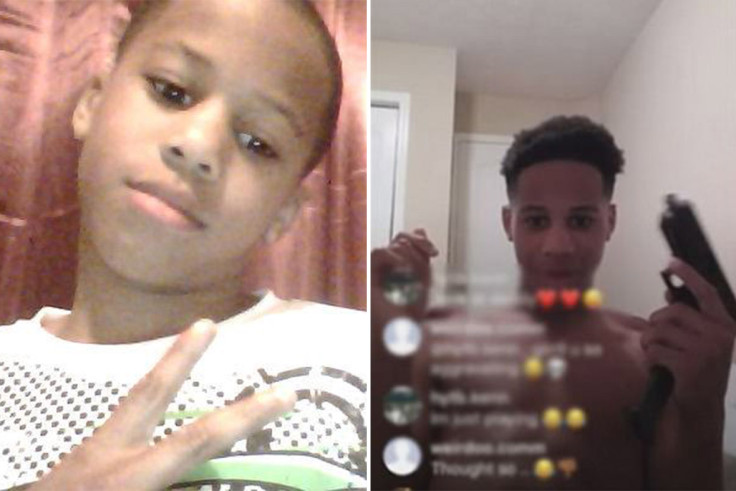 A 13-year-old boy has died after accidentally shooting himself live on Instagram while showing off a handgun to his friends.
Horrified pals watched online as Malachi Hemphill, of Forest Park, Georgia, lay dying in his bedroom after the firearm went off in his hand on Monday evening (10 April).
The boy's mother, Shaniqua Stephens, and her daughter broke down the teen's door after hearing a loud "boom", and found the boy on the floor in a pool of blood.
His mobile phone was still on and streaming live video through social media site Instagram, his family said.
"My daughter screamed and said, 'Mom turn his phone off.' As I proceeded to look at his phone he was on Instagram Live," Stephens told local news channel WXIA.
The boy was taken to nearby Grady Hospital where he died of his injuries.
Dozens of his friends came rushing to his house after realising what had happened.
"There was about 40 to 50 kids outside," said Stephens. "I guess these were the kids that were watching on live that live in the area. I guess when it happened they just ran over here."
She said one of the friends watching the live video had asked Malachi to put an ammunition clip in the gun. "As he put the clip in the gun, that is when the gun went off," Stephens said.
"This is just a pain that will never go away," she added. "He was my only son. He was just only 13. Just the thought of me seeing him on the floor will never leave my brain."
Forest Park police are now investigating how Malachi came to be in possession of the handgun, with Stephens believing it may have been given to her son by a friend.
The heartbroken mother said she and her husband tried to keep tabs on the boy's social media accounts, despite him creating numerous profiles.
She urged other parents to keep an eye on their children's use of social media and who they are make friends with online. "Monitor their phones, just monitor your children," she said.
Malichi's step-father, Ernest Stephens, added: "It can happen to the best parents...it can happen to the best people. The best ones that loved their kids, you know?"