On 10 June, Tesco (UK code: TSCO) was in the news as it announced the sale of the Giraffe chain of 54 restaurants to British businessman Ranjit Singh Boparan, the owner of the Harry Ramsden fish and chip restaurants.
This continues on a long line of asset sales that the venerable supermarket chain has undergone in the last couple of years.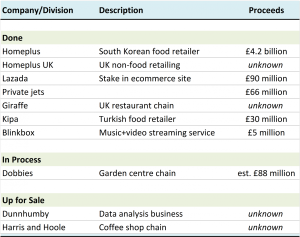 Along the line, Tesco has sold its Homeplus supermarkets in South Korea, the Kipa supermarket chain in Turkey and other businesses such as Homeplus UK, the music- and video-streaming site Blinkbox and its stake in the ecommerce website Lazada (Table 1).
And Tesco is not even done yet with its disposal programme. Still on the block to be sold are garden centre chain Dobbies, data analysis business Dunnhumby and the Harris and Hoole coffee shop chain.
All of this begs two key questions, in my mind:
Why are they in a rush to sell so many businesses now?

Why did they even own some of these businesses in the first place?
Tesco has had a shocker in 2013-2015
The first point to note is that Tesco has seen an amazing collapse in profits since 2012.
In 2012, profits after tax amounted to more than £2.9bn ($4.1bn, €3.7bn). But by 2015, this had dived to a loss of £5.7bn, a swing of £8/5 billion in 3 years (Chart 2).
Even in the year to February 2016 just gone, Tesco only managed a recovery to £138m in net profit, less than 5% of what they achieved back in 2012.
What happened?
How can a supermarket behemoth such as Tesco, formerly a UK success story and a stock market darling, have fallen on such hard times? Well perhaps the first, and most obvious answer, is that the company's top managers took their eyes of the ball.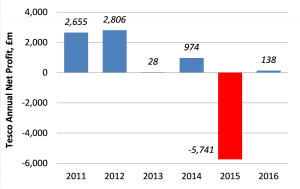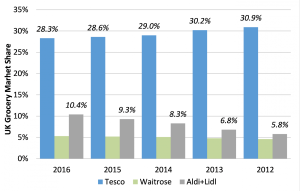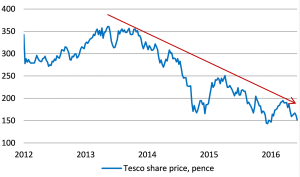 Yes Tesco is still today the nation's most-frequented supermarket chain, but it has seen a constant erosion of its market share in the UK since 2012 (Chart 3). According to Kantar Worldpanel, Tesco's share of the weekly UK's food shopping has fallen from nearly 31% in 2012 to just above 28% today.
To be fair to Tesco, all of the 'big four' UK supermarket chains have seen falling market shares, but Tesco has seen the greatest hit to profits as a result.
Who has been winning? A combination of upmarket and bargain basement chains.
A good number of consumers have moved upmarket in their food shopping habits, increasingly preferring Waitrose, part of the John Lewis partnership, which now accounts for 5.3% of the UK's food shopping, up from 4.6% in 2012.
But the biggest winners have been in the discount food-retail segment, with the Germans carrying off the trophy for best growth in food retail. Aldi and Lidl have grown quickly in the UK over the past four years, with their combined market share rising from just 5.8% in 2012 to 10.4% today.
Clearly, Tesco and the other dominant supermarkets have not been able to fight off this intense price competition effectively. And with Aldi and Lidl now introducing increasingly upmarket product ranges to their shelves as well, this pressure is unlikely to ease.
Is Tesco an attractive investment?
Value investors might be attracted to Tesco by two factors:
The fact that Tesco's share price has more than halved since 2013's highs as a result of these troubles (Chart 4)

Tesco is still the UK's premier food retailer and has a very strong brand
But here is what worries me about Tesco. Its brand still lacks sparkle; according to polling company Yougov, Tesco still does not feature in the top five among UK supermarkets in their Brandindex ranking (Table 5), while the 2 German discounters lead, with upmarket food retailers M&S and Waitrose in third and fourth places.
Summary: I will not be rushing to buy Tesco shares, or indeed shares of any of the other UK supermarket chains for now, as I foresee a long a rocky road to recovery still ahead of them.

AmazonFresh is now being launched in the UK, which will provide a new and powerful challenger in the online supermarket shopping space.
This is very bad news potentially for Ocado (code: OCDO), given the reach and huge customer database that Amazon can leverage off.