Despite torrential rain in Bangkok, crowds of mourners have begun camping on the streets around the royal palace ahead of the funeral of Thailand's late King Bhumibol Adulyadej. More than 250,000 people are expected to attend the five-day Buddhist ceremony, which begins on Wednesday (25 October).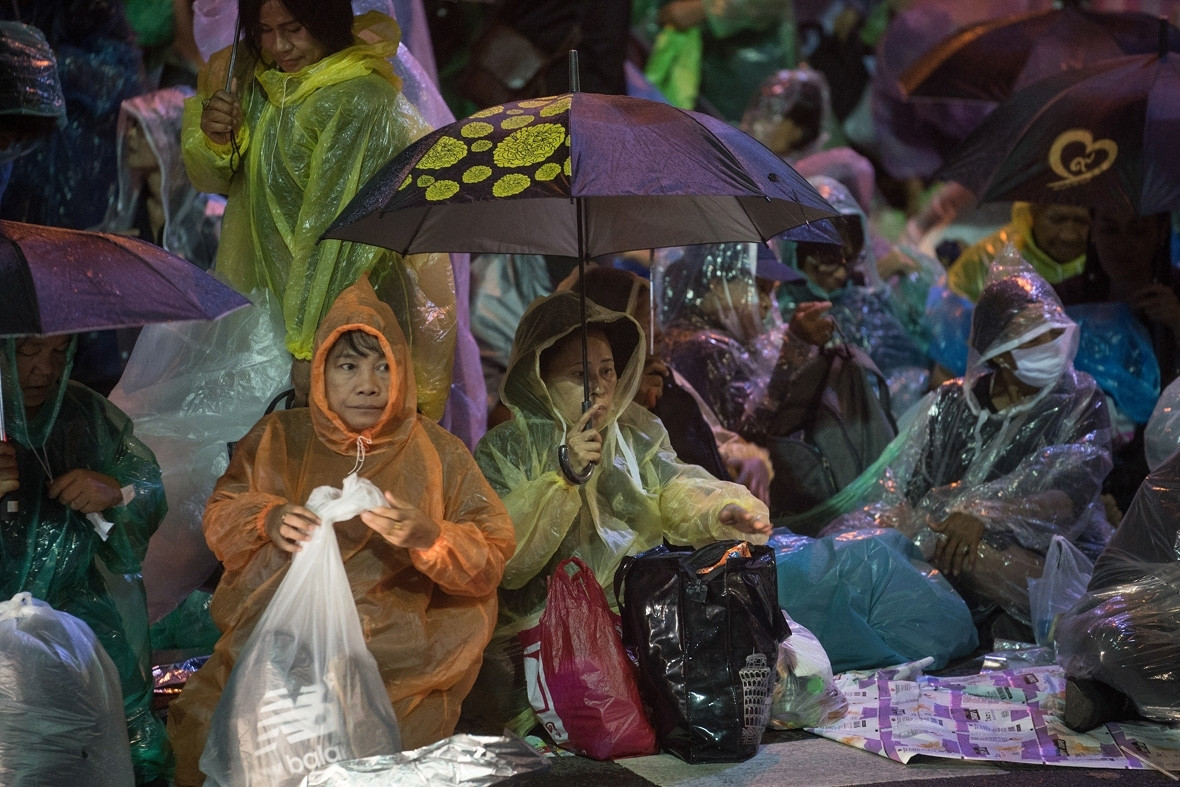 Arriving a day early to guarantee their place for the lavish funeral procession and cremation ceremony, mourners pitched flimsy tents in the middle of Bangkok's old quarter to provide some protection from the tropical downpours.
Hotels in the old town neighbourhood have been booked up weeks in advance, and a national holiday has been declared for 26 October, the day of the actual cremation.
Even though the funeral has yet to begin, many of the people camping on the streets had tears in their eyes and were visibly emotional. Hunched beneath a makeshift tent made of cloth and string, Chalermporn Paebutr, a 72-year-old woman from northern Thailand, described her determination to bid farewell to a much-loved monarch.
"I travelled here two days ago so that I could be the first to get a good spot," she told Reuters. "We only have to brave the rain for a few days. This is worth it if we can be near him one last time."
Around 1,000 people had camped overnight in the downpour, police said on Tuesday. Some only had their plastic raincoats for protection.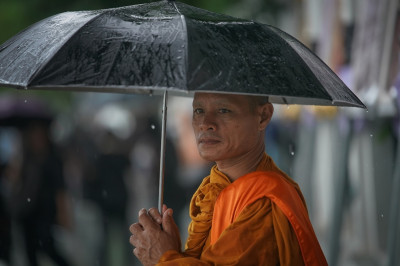 Thailand has suffered torrential rainfall and floods this month. Nine people have died, and 19 of the country's 77 provinces have been affected. Parts of Bangkok were hit by flash floods on 14 October. The city's metropolitan governor Asawin Kwanmuang said the 200 mm of rain was heaviest the city had seen in 25 years and that it overwhelmed the city's drainage system.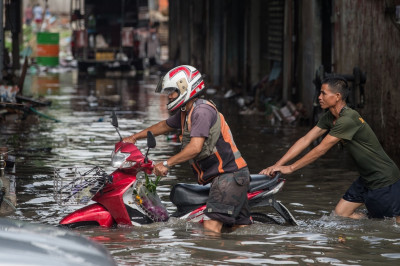 "The floods will not affect the cremation ceremony in any way," interior minister Anupong Paochinda told reporters.
Thailand's revered King Bhumibol Adulyadej died a year ago, and his body has lain in state in a golden hall at the glittering Grand Palace in Bangkok since shortly after his death. Around 12 million people – or almost one sixth of Thailand's population – have visited the palace to pay their respects to their beloved monarch.
Builders have been working for months on a huge crematorium complex that was built from scratch on a field in front of the palace. The crematorium is a representation of mystical Mount Meru, where gods reside, according to Buddhist and Hindu legends. The complex features nine golden-spired pavilions and more than 100 sculptures and statues of angels, gods, mythical creatures and former kings.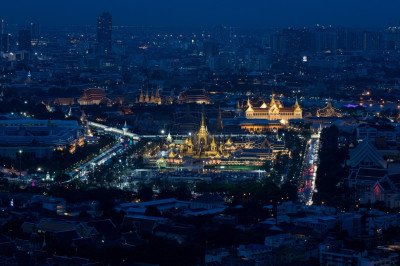 Thai royal funerals are traditionally elaborate, comprising rituals which span several months to more than a year. Shortly after death, the body is bathed and dressed and placed within a funerary urn. The urn goes on display for a lengthy period, during which ceremonial music is played every few hours while Buddhist monks chant. The urn will then be carried on a golden chariot in a grand funeral procession to the ornate crematorium complex. At the culmination of the proceedings, the urn will be placed on a purpose-built funeral pyre surrounded by sandalwood flowers for the actual cremation.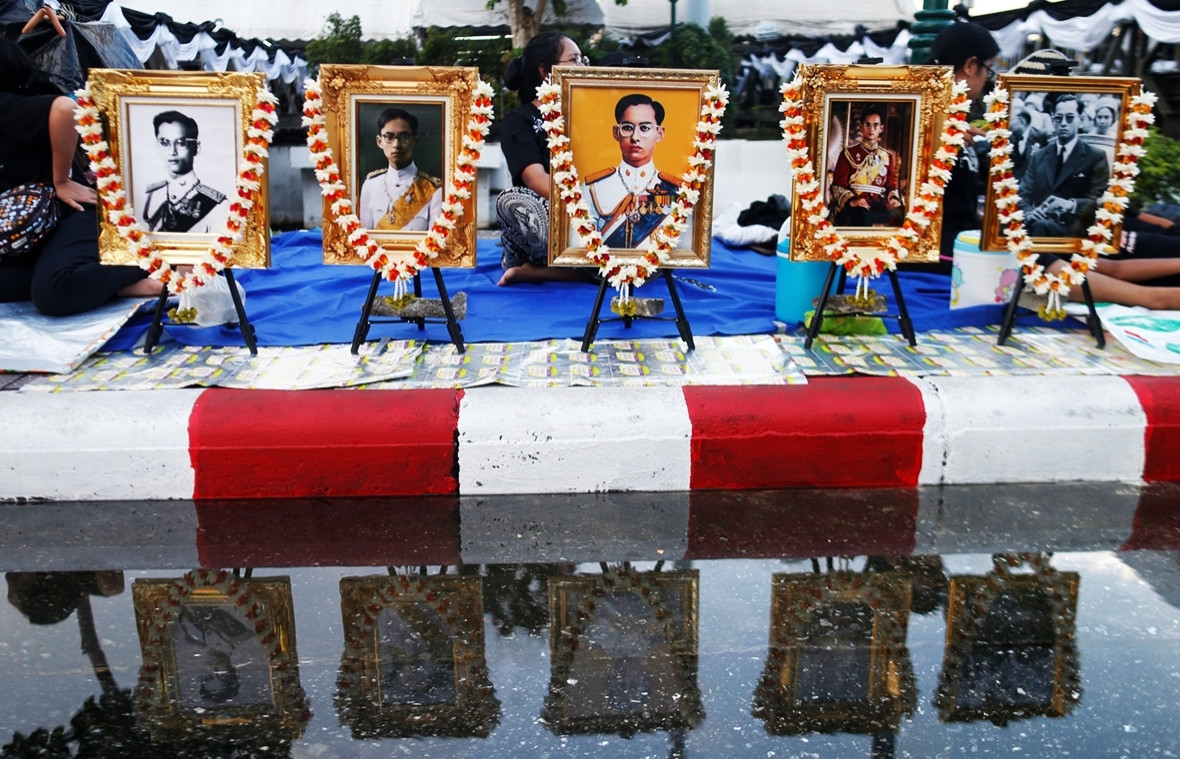 King Bhumibol, who died on 13 October 2016 aged 88, reigned over the country for 70 years. He was highly revered for his dedication to the country's development, demonstrated over many decades by his visits to even the most remote areas of the country, where he was able to hear directly from citizens about their concerns. He was widely seen as a father figure and regarded as the nation's moral compass during decades of political turbulence including several coups, bloody street protests and a region-wide 1997/98 financial crisis.
He was succeeded in December by his only son, King Maha Vajiralongkorn, known as Rama X, who has since overseen a shake-up at the palace to give himself greater authority. He does not yet command the same level of respect as his father and presides over a country that has been sharply polarised by political strife over the past decade and has been under military rule since 2014.