Thailand's revered King Bhumibol Adulyadej died a year ago, and his body has lain in state in a golden hall at the glittering Grand Palace in Bangkok since shortly after his death. Around 12 million people – or almost one sixth of Thailand's population – have visited the palace to pay their respects to their beloved monarch.
Now the south-east Asian country is preparing to bid a grand final farewell to the king with an elaborate five-day funeral ceremony that begins on 25 October.
Builders have been working for months on a huge crematorium complex that was built from scratch on a field in front of the palace. The crematorium is a representation of mystical Mount Meru, where gods reside, according to Buddhist and Hindu legends. The complex features nine golden-spired pavilions and more than 100 sculptures and statues of angels, gods, mythical creatures and former kings.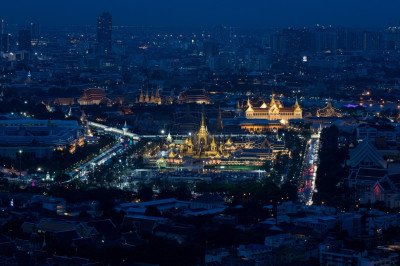 Officials said that an 'uncountable' number of people including architects, artisans, craftsmen and volunteers are working day and night to build 'heaven' on earth. The Thai word used for death of a monarch means going to heaven, therefore the Royal Crematorium was built to symbolise the place where the king's soul is now residing.
"Time was needed in order to build heaven, based on imagination and belief systems that fused Buddhism with Brahmin Hindu traditions that are important in Thai society," Tonthong Chandransu, a public relations official for the funeral organisation committee and an expert on the Thai monarchy, told Reuters in an interview.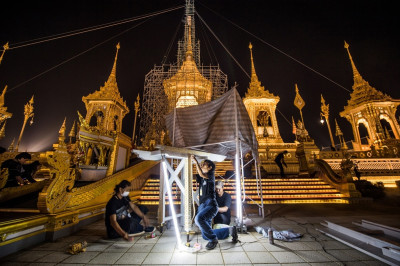 The royal funeral will be a mix of Buddhist religious ceremonies and Hindu Brahmin rituals. The funeral will be steeped in ancient Thai traditions as well as the pomp and circumstance that befits a monarch, said Tongthong, but it will also be a very modern funeral with higher participation from the public than for previous Thai kings.
"This is the first time that many Thais will experience a royal funeral for a monarch. So the grandeur, the beauty, and the determination of everyone involved in the preparation is a new experience for all," Tongthong said. "From the architecture, the craftsmanship, the various preparations and their fine details, I have never seen this sort of dedication."
Many Thais have joined as volunteers to make sandalwood flowers which will be handed out to the public to offer to the king on the cremation day. In Thai tradition, it is believed that the fragrance of sandalwood will lead the soul of the deceased to heaven.
The palace has said it expects 250,000 mourners to attend the royal cremation. Many of the hundreds of thousands of black-clad mourners are expected to camp for days near Bangkok's Grand Palace to capture a good view of the ceremonies, which will be guarded by 78,000 police officers and culminate in the cremation on 26 October.
Soldiers have repeatedly rehearsed their roles in carrying the royal urn to a chariot and pacing their marches for a royal procession that will be televised nationwide. The events, which have a budget of 1 billion baht (nearly £23m), are the culmination of more than a year of official mourning. More than 3,000 performers will join in a night-long final tribute of music and puppet shows to end a year of mourning.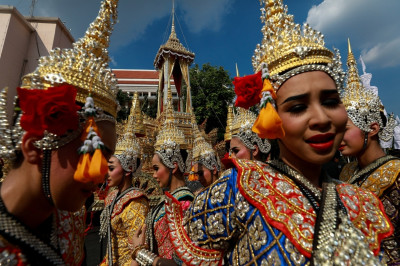 Thai royal funerals are traditionally elaborate, comprising rituals which span several months to more than a year. Shortly after death, the body is bathed and dressed and placed within a funerary urn. The urn goes on display for a lengthy period, during which ceremonial music is played every few hours while Buddhist monks chant. The urn will then be carried on a golden chariot in a grand funeral procession to the ornate crematorium complex. At the culmination of the proceedings, the urn will be placed on a purpose-built funeral pyre surrounded by sandalwood flowers for the actual cremation.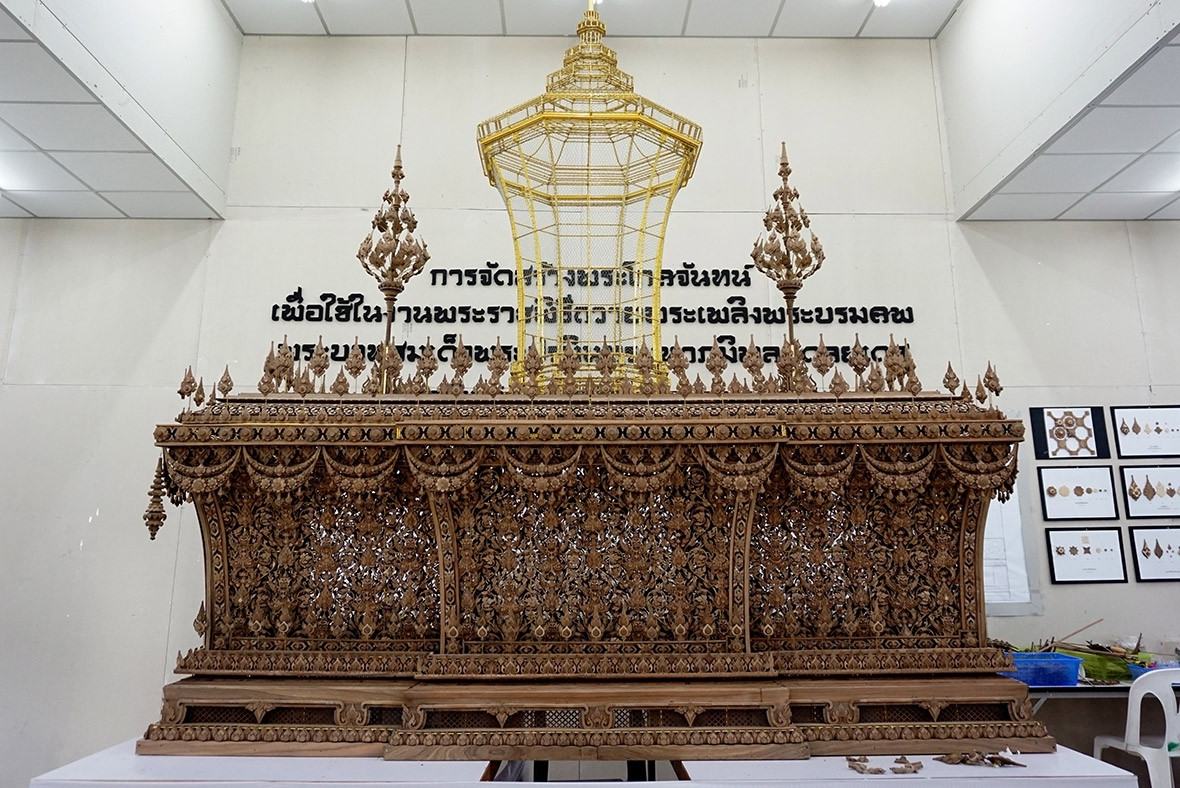 Thais devoted to the memory of the king have folded paper flowers for his cremation, making 10 million in Bangkok alone, city authorities said. "This is our 'Mandela', or our 'Princess Diana', moment," said graphic designer and self-proclaimed royalist Apichai Klapiput. "What the world will see is rivers of tears that show how much Thais love King Bhumibol Adulyadej. He was the people's king."
Thailand's tourism body has asked tourists to behave appropriately and respect Thai sensitivities during what promises to be an emotionally-charged time for many. "We would like to request that the solemnity of the royal cremation is observed, and visitors should refrain from any inappropriate or disrespectful behaviour," it said. While not required to wear black, tourists should stick to "respectful clothing", it added.
King Bhumibol, who died on 13 October 2016 aged 88, reigned over the country for 70 years. He was highly revered for his dedication to the country's development, demonstrated over many decades by his visits to even the most remote areas of the country, where he was able to hear directly from citizens about their concerns. He was widely seen as a father figure and regarded as the nation's moral compass during decades of political turbulence including several coups, bloody street protests and a region-wide 1997/98 financial crisis.
He was succeeded in December by his only son, King Maha Vajiralongkorn, known as Rama X, who has since overseen a shake-up at the palace to give himself greater authority. He does not yet command the same level of respect as his father and presides over a country that has been sharply polarised by political strife over the past decade and has been under military rule since 2014.