Thailand: Devotees block police from arresting Dhammakaya temple abbot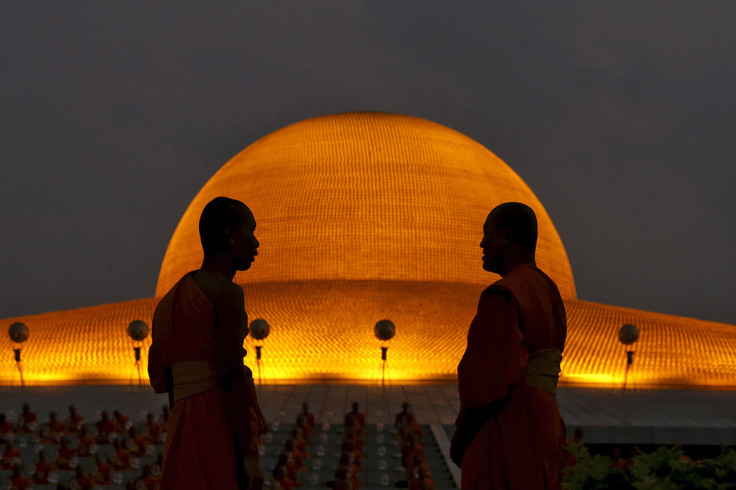 Thailand police were stopped by thousands of devotees from entering the influential Dhammakaya temple to arrest its abbot, Phra Dhammajayo, on corruption charges. The 72-year-old Phra Dhammajayo, the head of the temple, is accused of committing fraud and money laundering.
Thailand's Department of Special Investigation (DSI), which operates independently, led the investigation to find the abbot, who has been inside the temple for months. Authorities said that Phra Dhammajayo has constantly failed to show up before investigators.
Devotees at the temple said that Phra Dhammajayo was unwell and added that he would enter the judicial process "only when the country returned to democracy". Since 2014, Thailand is being run by the military after a coup.
Meanwhile, deputy chief of the police department of DSI, Suriya Singhakamol said, "Our operation has not ended. The [arrest] warrant is still valid so we will have authority to carry out the operation. According to our information, he is still inside."
He had previously claimed that officers without arms eventually "went inside the temple to negotiate".
"We have made it clear that the execution of this task must be done in an orderly manner and without any injuries," he said. However, no arrests have been made so far.
Devotees claimed that the case against the abbot was false and that he was being trapped under some political game. "All we can do is sit and meditate. Arresting him is uncalled for. It's not like he killed someone," a 58-year old housewife and Dhammakaya follower was quoted as saying.
The raid that started at 2am BST on 16 June, was delayed by the police until the monks had finished their lunch.
Situated in the north of the country's capital, Bangkok, the temple is 46 years old and is very famous among the local Buddhists. This is the second raid on a temple in Thailand this month. Earlier, the Tiger temple, Wat Pha Luang Ta Bua in the Kanchanaburi province, was raided and carcasses of around 40 tiger cubs were seized.
© Copyright IBTimes 2023. All rights reserved.