The city of Pattaya in Thailand is best known for its go-go clubs, massage parlours and girlie bars. The resort is a popular sex tourism destination due to its huge neon-lit red light district. However, in the wake of July's military coup, the city is trying to clean up its image.
Colonel Suppatee Boonkrong, acting head of Pattaya City Police, told the Bangkok Post he was aiming to totally eradicate street prostitution. "I want to completely change the image of Pattaya from being sin city to a friendly town that everyone can enjoy," he said.
The authorities have begun carrying out nightly raids in the red light district, arresting prostitutes, pickpockets and confidence tricksters.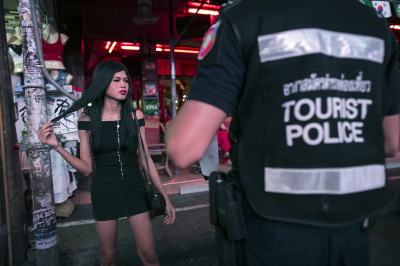 The manager of Sisters, a health counselling centre for transgendered people, told the Bangkok Post that police were targeting ladyboy sex workers. But Colonel Boonkrong claimed: "We are arresting anyone for whom we have evidence of trying to trade sex for money. [Transsexual women] happen to be the majority of people we arrest."
In theory, prostitution is illegal in Thailand but in practice it is tolerated and regulated. Sex tourism contributes a vast amount of revenue to the country's economy.
Once a sleepy fishing town, Pattaya started catering for the needs of off-duty American GIs during the Vietnam War. Package – and sex – tourists followed and the city's beaches are now lined with hotels, restaurants, shopping malls and the seemingly endless massage parlours, cabaret venues and seedy bars.