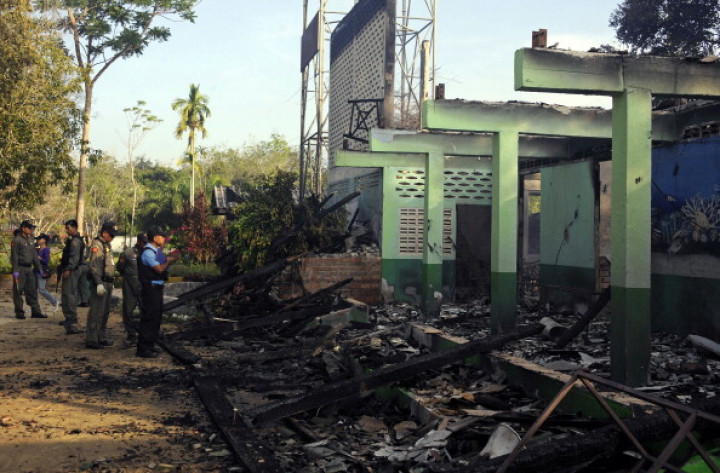 Insurgents in Thailand have torched six schools in one night, leaving thousands of children unable to attend classes.
The arsonists tied the hands and feet of school security guards before pouring gasoline around the buildings in Pattani, southern Thailand, deputy governor of Pattani Somphoch Suwannarat was quoted by the Bangkok Post as saying.
No one was injured during the attack, which aimed at destroying public buildings rather than hurting staff or students, officials said.
The torching of the schools is believed to have been carried out by separatists in retaliation to a recent military operation which killed a separatist leader in Pattani's Panare district.
However, no group has claimed responsibility for the incident.
"The Pattani police chief is now surveying the area," an official in the Thung Yang Deang district told news agency DPA.
Another army official said the attacks were carried out simultaneously to attract public attention.
This is not the first time that insurgents set schools on fire. Last march, two schools in the Sungai Padi district were set ablaze.
The worst incident of this type in the area occurred in 1993, when 36 school buildings were torched simultaneously.
It is not clear yet whether new buildings will be built to allow students to attend classes. For now, pupils will have to study in tents.
Pattani is one of three provinces in the Muslim-majority southern area of Thailand, which is otherwise predominantly Buddhist.
Nearly 6,000 people have died and 10,000 been injured since the 2004 ethnic separatist insurgency, which has pitted separatist Malay Muslims against Buddhists.
The insurgents demand a level of autonomy from Thailand in the Pattai region, which comprises southern Thai provinces of Pattani, Yala, Narathiwat and parts of Songkhla, and the northern part of Malaysia.
Last February, at least five people, including a 9-year-old boy, were killed in an attack by suspected militants in southern Thailand.
The incident followed the death of a policeman's wife, who was shot dead and then set on fire at a busy market in Pattani.