Update 4pm GMT: Following the arrest of a 23-year-old male suspect in the attack on a Christmas market in Berlin, German chief prosecutor Peter Frank has said the man in custody may not have been involved in the incident
"We have to think that the person who was arrested yesterday, a man of Pakistani nationality, we have to be open to the idea that he could possibly not have been the attacker," Frank said during a press conference on 20 December.
The suspect is denying any involvement in the tragedy, the German interior minister Karl Ernst Thomas de Maizière said at an earlier press conference.
Original story:
Witnesses have described the horror of watching a man plough a lorry through a Christmas market in Berlin's Breitscheidplatz at speed, killing 12 people and injuring at least 48 others.
According to German media reports, the suspected attacker has been named as Naved B, a 23-year-old asylum seeker of Pakistani origin. Chancellor Angela Merkel has said it would be "particularly sickening" if the suspect had arrived in the country seeking refuge. "We must assume it was a terrorist attack," she added.
Berlin's Christmas markets will continue operating with "adjusted" security measures. They are closed today (20 December) out of respect for the victims.
British tourist Emma Rushton was at the scene enjoying the festivities when the 25-tonne vehicle smashed its way through the stalls – including the one she was in just moments earlier. "We were waiting, looking around at the lights and waiting to go back to the hotel when we heard an almighty bang," said Rushton, from Rugby, Warwickshire.
"We looked around and saw lights being torn down by the lorry and the huts in front of us... were completely crushed.
"It completely decimated the hut where we had bought wine, and it carried on going.
"It was about eight, 10ft in front of us, and had we left two minutes earlier we would have been right in the path of it," she added, acknowledging that she had been "incredibly lucky" to escape unscathed.
Recalling the devastating scenes as they made their way back to their accommodation, Rushton said: "To walk back to our hotel, we had to walk back through the carnage that had been created and saw people holding their heads. There were a couple of people in the recovery position. There was glass and wood everywhere. It was horrendous.
"It was Monday evening. There were lots of tourists there, people leaving work. It was busy. There were lots of people enjoying a festive evening," she added.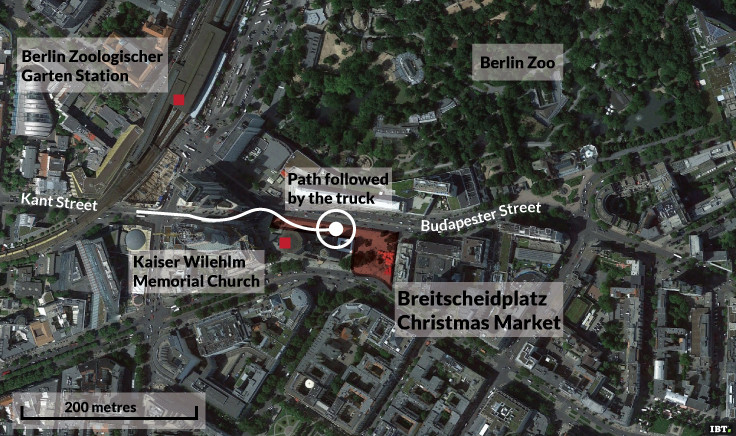 Scottish tourist Thomas Butler was also at the scene with his partner when carnage broke out. "Before we knew it the big lorry had turned a corner and I had it in my eye shot and we heard all this noise and all the people started running towards myself and my partner" he said.
"They were screaming so we assumed the worst, I grabbed [my girlfriend] and we just ran," he said, adding that the incident "wasn't an accident".
US tourist Sabrina Glinz described the devastation as bodies were covered in white sheets and the wounded were taken to receive medical attention. "You just keep seeing people getting loaded into ambulances, and it doesn't seem to end," said Glinz.
"He went to the very beginning of the market where it's busiest and then just careered through the buildings."