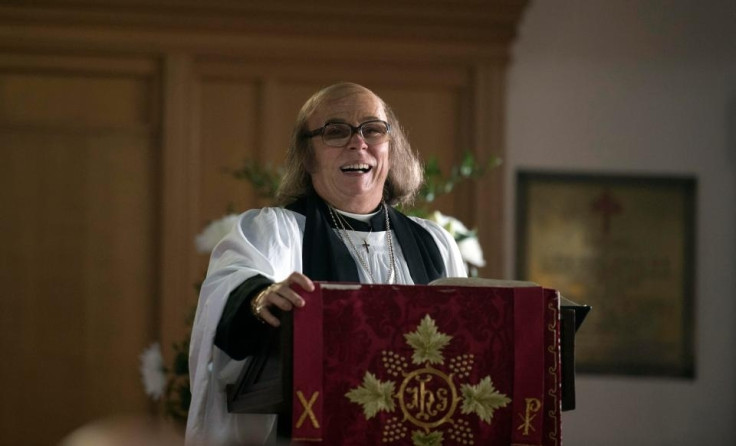 Dressed as an elderly villainous vicar, complete with a comb-over, false teeth and oversized spectacles, comedian Jennifer Saunders looks absolutely unrecognisable in these pictures.
The look is part of Saunders' character in the upcoming BBC One children's film scheduled to air on New Year's Day.
The hour-long TV adaptation of David Walliams' book Grandpa's Great Escape sees the 59-year-old actress play a money-hungry Miss Dandy, who impersonates a vicar to dupe innocent families.
The wicked character takes on the religious garb and convinces unsuspecting victims to put their elderly relatives in her old people's home, Twilight Towers.
Miss Dandy's elaborate scheme involves feeding sleeping pills to her helpless residents and forging their wills so that she becomes the sole beneficiary.
She also has a room in her home where she amasses all the valuable jewellery and antiques collected from former lodgers.
Speaking bout her role as Miss Dandy, Saunders said: "I love playing villains – they're so much more interesting than nice people. It's so easy, it comes naturally.
"Miss Dandy is the sort of person you'd hope would never be in charge of an old people's home, but great fun because of that.
"She's a self-serving psychopath with very few redeeming features ... I think the fact that her tool of choice is a cattle-prod says a lot about her mentality."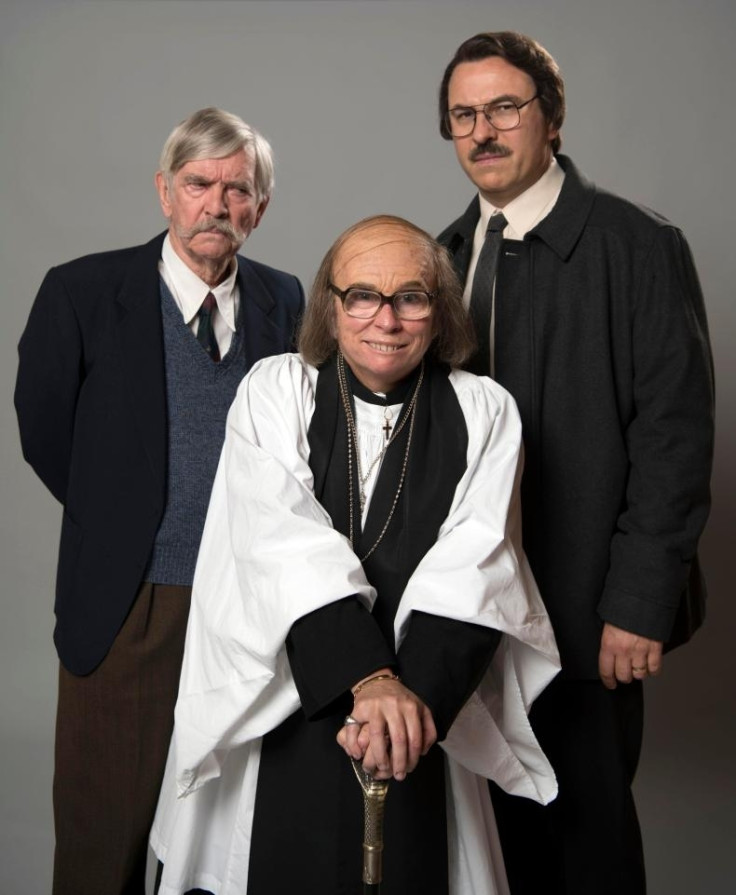 The BBC One special also stars Walliams alongside Sir Tom Courtenay and Kit Connor. While Courtenay plays a grandfather suffering from Alzheimer's disease, Connor plays his grandson Jack.
Grandpa was once a Spitfire pilot in World War Two, but is now trapped in Miss Dandy's evil home.
The story focuses on the relationship between Courtenay's character and his 13-year-old grandson, who helps him to break out of the abusive home and fly a Spitfire once again.
Discussing the show, Shane Allen of the BBC said: "This heart-warming story about the close relationship between a boy and his grandfather continues the rich tradition of BBC One family pieces at Christmas by connecting young and older viewers together".
Walliams has already sold 20 million children's books and Grandpa's Great Escape is his fifth book to be adapted for a Christmas special on BBC One following Mr Stink (2012), Gangsta Granny (2013), The Boy In The Dress (2014) and Billionaire Boy (2015).
The special will air on BBC One on New Year's Day at 6.55pm.