Coronation Street cafe worker Anna Windass' dubious escape from police custody left viewers of the soap, with some calling it "an idiotic absurd storyline".
Last night's episode saw the police taking Anna (Debbie Rush) captive as she tried to flee with daughter Faye.
The disturbed mother has had a tough time after being framed for the attempted murder of Seb Franklin by Pat Phelan. She was also placed in the hospital as her mental state continued to deteriorate.
Last week Anna managed to dramatically hoodwink the police and escape from the hospital she was being treated at. But her getaway was short-lived as the Weatherfield Police caught her hiding in her son's car.
Coronation Street fans were left bewildered at how easily Anna took off from the hospital. She simply put her coat on and sneaked out without anyone noticing.
A viewer pointed out: "If it was that easy to do a runner we'd all be in trouble."
Another said: "How haven't the prison missed Anna? Surly they must wonder where she's gone?"
While a third Tweeted: "Wouldn't the police be watching all of Anna's old haunts?"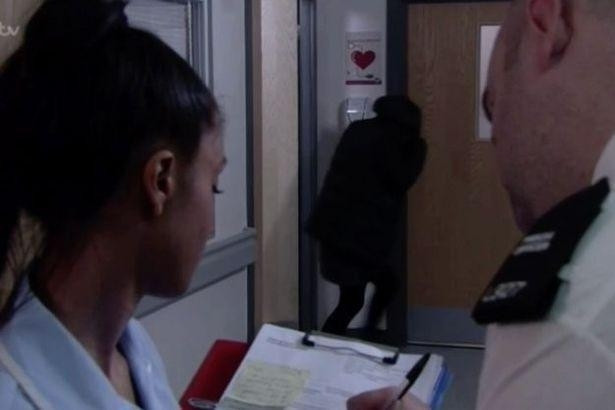 The bizarre plot now sees Anna facing charges not just for Seb's attempted murder and for trying to escape police custody but also for smashing Pat's wife Eileen on the head with a wrench.
Anna heads to the builder's yard to search for evidence to prove that she had been framed by Pat. As she stumbles upon what she's looking for, she hears footsteps approaching.
Assuming it to be Pat, a terrified Anna grabs the nearest weapon and hides in the corner. Without realising that it's Eileen and not her husband, she strikes the taxi office worker with the wrench.
This means Anna is now responsible for two attempted murders.
Criticising the storyline, a fan took to Twitter to rant: ""What an idiotic absurd storyline! The writers show utter contempt for its audience! 5 yr olds could write better!! It's dreadful, AND they get paid for this!!"
"Ridiculous storyline with Anna Windass running from Hospital #Corrie is a joke right. Get some descent writers onboard!," remarked another viewer.
A third said: "It's too far fetched. Not like Corrie to come up with such a silly storyline!"
"Correct it's one of the most ridiculous storylines I've ever seen on corrie in the 20 plus years I've been watching," said a fourth.