With the turkey still warm and this year's presents abandoned, thousands of eager shoppers braved the weather and long queues to bag some Boxing day bargains.
The rush for the sales started early, with people queuing at 6am to cash in on the post Christmas shopping frenzy.
At London's Selfridges, shoppers cut the Christmas festivities short, as they began queuing from midnight on Christmas Day, hoping to be the first to scoop up the stores luxury high-end goods.
As retail director Sue West explained Boxing Day is typically one of the biggest days of the year for the Bond Street Store.
The first major British retailer ever to open on Boxing Day, the store seems to have benefited from a boost in popularity following the success of the ITV drama Mr. Selfridge.
"We've seen a lot of new clients, a lot of new customers come in, ever since the series went live," said West. "A lot of curious customers who haven't been in before.
"Jeremy Piven is now a big pin-up for most of the staff in the store," she added.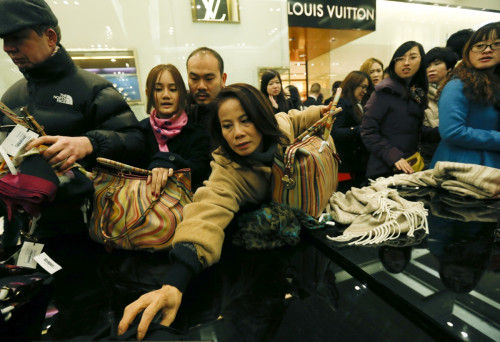 Harrods made their winter sale all the more festive, with butlers serving up warming mugs of hot chocolate and gourmet smoked salmon canapés to customers who had been queuing for up to nine hours in the cold before the doors opened.
And the famed Knightsbridge store even laid on some entertainment with a performance by street magician Dynamo and shoppers were serenaded by a string quartet while they waited.
Tourists to the capital had a taste of the British shopping experience as they snapped up bargains to take to families at home
Branches of Next opened at 6am, attracting thousands of customers who queued in the dark in freezing temperatures to get first in line and snap up some winter bargains.
The Bluewater shopping centre in Kent, reported over 4000 bargain-hunters at 6am, with 130,000 shoppers expected to visit throughout the course of the day.
General manager Robert Goodman said: "By 9am, our car parks were busy with guests arriving to have breakfast before starting their sale shopping.
"In fact, we served our first coffees at around 5am and our restaurants expect to be busy throughout the day."
While high street retailers anticipating bumper revenues, the online stores experienced a boost in sales with 117million visits to retail websites made yesterday in the UK.
According to Experien, by the end of December, there will have been three billion visits to retail websites in the UK, the highest figure in a single month ever.
While spending habits are changing, the numbers of people eager for a bargain clearly hasn't.