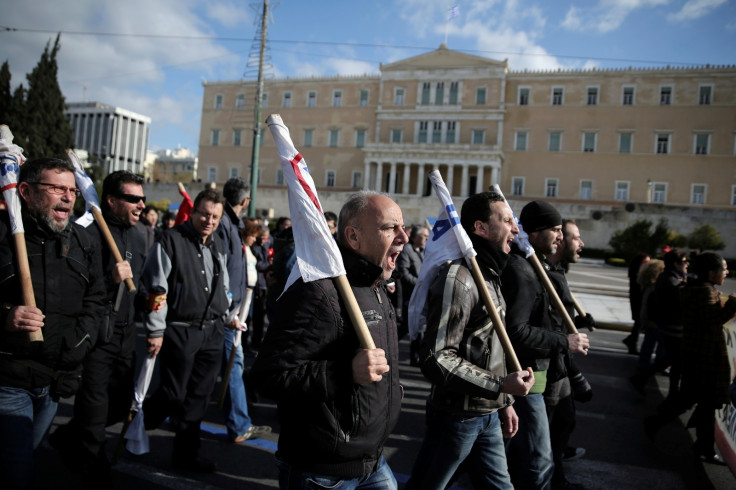 More than 10,000 people have taken part in a general strike in Greece against the ongoing austerity measures Alexis Tsipras' government is taking to satisfy its bailout creditors.
Public service employees staged a 24-hour walkout on 8 December, disrupting transport services and state-run schools, and leaving public hospitals running with emergency staff.
More than 7000 people marched in three different protests in Athens, as other demonstrations were held in cities around the country. Around 5,000 protesters gathered in the country's second largest city, Thessaloniki.
Bailout lenders, including the European Commission, the IMF and the European Central Bank, agreed this week to grant the country a series of short-term debt relief measures aimed at balancing the country's repayment schedule.
Protesters say that the austerity policies imposed by international lenders have slowed down rather than aided the country's recovery. "We can either accept our continuing descent into poverty or fight against it," theatre actor Dionysis Xenakis told the Associated Press as a demonstrators chanted "People, fight back. They're drinking your blood."
The demonstrators objected to new taxation and labour market reforms the left-wing government is reportedly working on, claiming they would remove protection for private sector jobs and distressed mortgage holders.
"Nothing has been decided until everything is decided," Finance Minister Euclid Tsakalotos, referring to the ongoing negotiations, told parliament. According to the minister, a new bailout deal was expected by the end of the month. "We've been at this stage before. Everyone has to stay calm," he said.
The reforms under discussion add to a list of measures including deep pension cuts and steep tax increases that Greece has to satisfy to receive emergency loans from its international bailout. This is the third such rescue package since a devastating financial crisis hit the country in 2010, created by decades of poor fiscal management and overspending, which has wiped out a quarter of the country's economy.
The protests top a week of mobilisation in the country. Journalists and private sector workers went on strike on 6 December and on 7 December, and protesters clashed with police on the eighth anniversary of the death of teenager Alexis Grigoropoulos, who was killed by police officer Epaminondas Korkoneas during a protest in 2008 leading to 20 arrests.