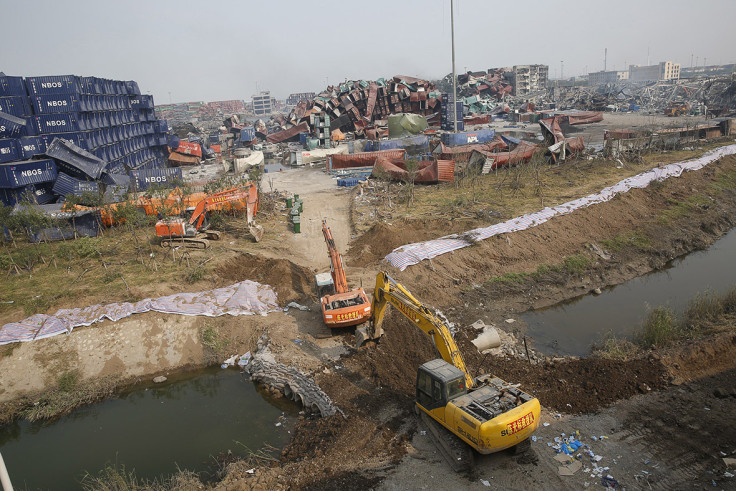 China has sacked the head of its work safety regulator Yang Dongliang for suspected corruption following the blasts that killed a total of 139 people at the port city of Tianjin this month, Xinhua reported.
In a brief statement citing the ruling Communist Party's graft watchdog, Xinhua said Yang has been stripped of his position as the chief of the State Administration of Work Safety.
Xinhua said Yang is suspected of "serious breaches of discipline and the law", which Reuters says is the usual euphemism for corruption. No other details were given and Yang could not be reached for comment.
Reuters said that government officials are always almost fired soon after announcements of party graft investigations.
The news agency noted that the government had not explicitly linked Yang's sacking to the Tianjin blasts but said the company that operated the chemical warehouse that blew up did not have a licence to work with such dangerous materials for more than a year.
The government had confirmed that there were 700 tons of deadly sodium cyanide in the warehouse that blew up, devastating a large industrial site and nearby residential areas.
A total of 11 of the 12 apartment blocks in the area have been officially classified as structurally safe but five Chinese state-owned property developments have said that they will buy the apartments damaged by the blasts, according to Xinhua.
Yang was the vice-mayor of Tianjin until 2012, Reuters said.
In a separate development, Xinhua said that police have arrested 11 government officials and 12 executives from the Ruihai International Logistics and another company over their suspected involvement in the Tianjin blasts.
The BBC said 11 of the officials involved include the head of Tianjin's transportation commission Wu Dai, and Zheng Qingyue, the chief of Tianjin's port operator.
Prosecutors have said that these officials are accused of giving approval to Ruihai International to build a hazardous chemical warehouse despite the fact that it was against safety rules on minimum distances.
It also accused the officials of giving approval or helping the company to pass safety checks despite the fact that it did not have the necessary "qualifications" and did not meet safety standards. The officials also failed to detect and take measures against the logistics company's "illegal activities involving hazardous goods" and "safety risks."
The BBC said the 12 executives arrested include Yu Xuewei, the chairman of Ruihai International, vice-chairman Dong Shexuan, as well as managers from the safety, finance and operations department of the logistics company.
Chinese prosecutors say Zeng Fanqiang, a safety evaluator from the Tianjin Binhai Haisheng company which undertakes safety checks, has also been detained.The statement said the 12 were suspected of "being heavily responsible for the incident and of illegally storing hazardous chemicals."
More about Tianjin blasts