China explosion: Tianjin residents evacuated as sodium cyanide found near blast site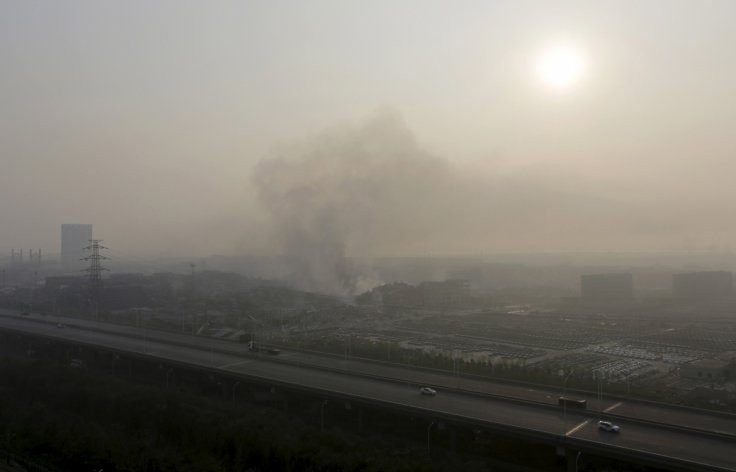 Chinese authorities are evacuating citizens within a 3km radius of the Tianjin blast site, after receiving confirmation that highly toxic sodium cyanide was found near the blast site. Chinese Police have confirmed that the chemical, which can be deadly when ingested or inhaled, has been detected near the location of the two huge warehouse explosions that killed 85 people.
The presence of the chemical was said to have been found "roughly east of the blast site" in an industrial zone, said Reuters.
Evacuees were relocated to a primary school in the Tianjin Development Zone Saturday morning, after receiving an alert that of a change in winds, according to Xinhua news.
A series of up to seven smaller explosions were also heard this morning, 15 August, with small fires breaking out near where the blast took place on Wednesday.
In total 721 people were injured, with 25 in critical condition. At least 21 firefighters are among the dead and an unknown number remain missing.
Construction worker Li Shulan, 49, told Reuters: "I do feel a bit afraid. It definitely doesn't feel good. As you can see our boss is making us wear masks."
Poison gas fear
Sodium cyanide is white crystalline or a granular powder which can be fatal if inhaled or ingested, as it disrupts the body's ability to use oxygen. It is soluble in water, absorbs water from air and is easy to inhale when dust. When it dissolves or is burnt it releases highly poisonous gas hydrogen cyanide, said the BBC.
The blasts originated from a warehouse which stored toxic chemicals. A team of 214 specialists, including anti-chemical warfare troops, who were deployed to handle the spillage soon afterwards.
Officials had previously confirmed the presence of calcium carbide, potassium nitrate and sodium nitrate, and have insisted that air and water quality levels are safe in the area.
Amid the confusion relatives of missing residents attempted to disrupt an official news conference given by officials today demanding to know what happened to loved ones.
"We have gone to each and every hospital by ourselves and not found them," Reuters news agency quoted Wang Baoxia, whose elder brother is missing. "There is no government official willing to meet us. Not even one."
© Copyright IBTimes 2023. All rights reserved.