Iraq's interior minister says security forces are battling the last remaining pockets of Islamic State (Isis) militants in Tikrit, and that he expects them to gain full control of the city "within the coming hours". Mohammed al-Ghabban told reporters in the city on 1 April 2015 that security forces are fighting to clear the last IS stronghold.
"Most of Tikrit today is liberated, only small parts remain (outside our control). We will give you the good news in the next few hours after eliminating the pockets that are still in the city," Ghabban said.
In this photo essay, we look at the progress made by Iraqi forces and Shi'ite fighters as they combat IS militants and attempt to retake Tikrit.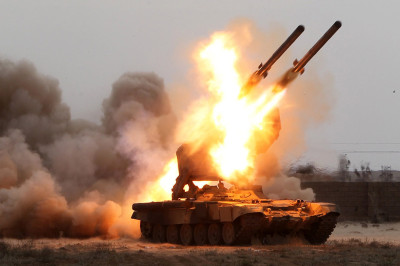 Hundreds of insurgents ready to fight to the death are still holed up in Salahuddin province's capital city and at least three neighbourhoods remain under Islamic State control, along with a palace complex in the city's north.
With officials touting victory in a month-long battle, state television said Prime Minister Haidar al-Abadi was visiting the city, which the Islamist militants captured in June 2014 as they seized most of Iraq's Sunni territories.
Security forces and paramilitary fighters have retaken the governor's headquarters and the main hospital, which had been occupied by IS.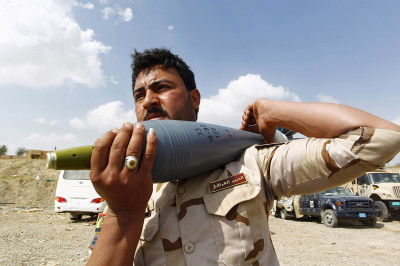 The city's streets are completely abandoned, and buildings scarred by gunfire. The further Iraqi forces push into the city, the greater the risk of ambushes. Iraqi officials suspect the militants have planted scores of bombs and are using snipers and a network of underground tunnels and bunkers to slow the government advance.
Reuters journalists travelling with the police passed houses scarred by bullets, mortars and rockets, as well as five or six corpses that security officers said were IS fighters, adding that they might be rigged with explosives.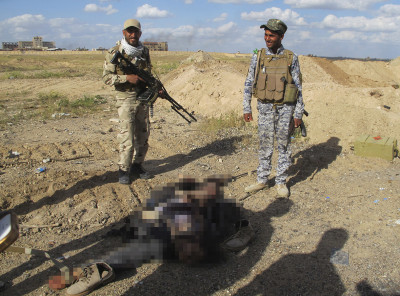 Iranian-backed Shi'ite militia groups returned to the battle this week after suspending their operations last week, when Abadi requested US-led air strikes.
The militias had opposed US-led strikes, insisting that they could retake the city. The US government has sought ways to participate in the Tikrit battle without acknowledging working with forces backed by Tehran.