Xiaomi - often dubbed the Apple of the East - is now China's biggest smartphone manufacturer outselling Samsung for the first time in the second quarter of 2014.
In what is seen as a highly significant tipping point in the smartphone market in one of the world's biggest markets, research firm Canalys has revealed that Xiaomi was the market leader in its home territory of China, jumping ahead of Samsung for the first time in Q2 2014.
In the three months to the end of June, Xiaomi held a 14% market share in China with Samsung, Lenovo and CoolPad all trailing with 12% of the market while Huawei creeped into fifth spot with an 11% market share.
While it is not surprising to see Xiaomi at the top of the charts, the speed it has happened is surprising. In the first quarter of 2014, Samsung held an 18% market share while Xiaomi held just over 10%.
Power shift
The sudden shift in power in China reflects growing problems for the South Korean company globally in the smartphone market. Last week Samsung announced its smartphone sales had dropped 12% in the second quarter of 2014 compared to the same period last year. Worse still, profits from its highly lucrative mobile business had dropped 31%.
While Samsung has huge overheads - including its £8 billion marketing budget - Xiaomi has been able to deliver top notch hardware to its customers at a much lower cost.
It has been able to do this through clever marketing campaigns, as well as selling devices at close to cost, following Amazon's business model of making its profits from software sold on the phones.
Xiaomi's MIUI interface is a forked version of Android which doesn't link to to Google's own stores for apps, music, books or films but instead links to Xiaomi's own app stores and content.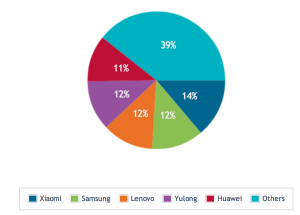 This model allows Xiaomi to sell smartphones with top-notch chipsets, displays and cameras at prices which are a fraction of those charged by the likes of Apple and Samsung.
While Apple has the brand identity and iOS experience to woo customers, Samsung does not have that same leverage and is fast losing out to more nimble and low-cost manufacturers.
Xiaomi is among a growing number of Chinese smartphone makers who are making big inroads in the market previously dominated by Samsung and Apple.
Lenovo, ZTE and Huawei are already established global players while companies like Wiko, CoolPad and TLC are on the rise.