Titanfall 2 trailer confirms single-player campaign and October 2016 release date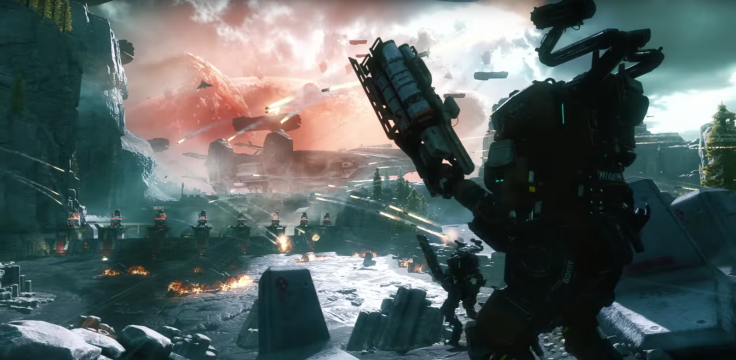 Electronic Arts has confirmed that Titanfall 2 will launch on 28 October 2016 for Xbox One, PS4 and PC. The mech-shooter sequel was detailed prior to EA's E3 2016 conference (after it leaked online) in a trailer confirming that the game will feature a full single-player campaign.
The explosive trailer (embedded below) showcased the game's story mode - a first for the franchise, as its new multi-platform status having been an Xbox console exclusive first time round. This time, the relationship between the exo-suit clad soldiers and their hulking Titans will be fleshed out, as the game "explores the unique bond between man and machine".
Developer Respawn Entertainment has clearly taken steps to expand the lore of Titanfall's sci-fi universe and in doing so has addressed a key gripe fans had with the 2014 original. In Titanfall 2 players will "step on to The Frontier as a Militia rifleman with aspirations of becoming a Pilot. Stranded behind IMC enemy lines, and against overwhelming odds, you must team up with a veteran Vanguard-class Titan and uphold a mission you were never meant to carry out."
The trailer also shows off a Pacifim Rim-esque base where a narrator demands that a Titan recites its main protocols while being 'linked' to a new pilot, which is presumably the lead character. The footage also confirms an upgraded melee system, with one Titan performing some impressive martial arts skills and several others brandishing electrified swords. Cool.
The franchises' signature wall-run and gun gameplay is also set to return in an expanded online multiplayer mode which Electronic Arts confirmed will feature six new Titans with unique abilities, "a deeper set of Pilot abilities, an expanded arsenal of weapons, more customization options, and a robust progression system."
The original Titanfall was exclusive to Microsoft's Xbox One, Xbox 360 and PC platforms. Respawn's follow-up was widely reported as being a multi-platform title - a status confirmed in a brief teaser trailer in April.
Respawn Entertainment's debut game marked the first outing for Jason West and Vince Zampella since their public fallout with Call of Duty publisher Activision. The two Infinity Ward veterans co-founded Respawn following the spat.
Despite the impressive pedigree and a warm critical reception, the first Titanfall never reached the sales heights or global popularity enjoyed by the duo's acclaimed work at Infinity Ward on Call of Duty 4: Modern Warfare or its sequel Modern Warfare 2.
© Copyright IBTimes 2023. All rights reserved.