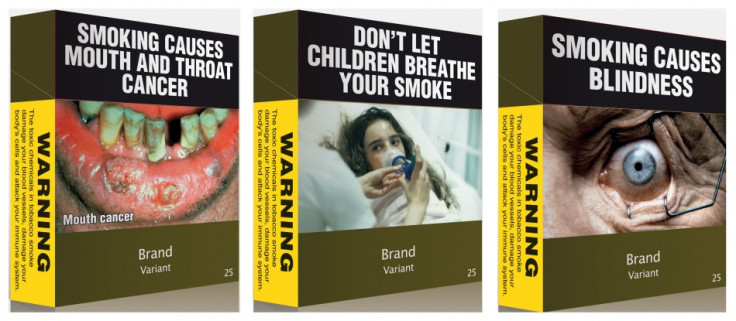 An international court has ordered the world's largest cigarette company to pay millions of dollars in compensation to the Australian government over its failed bid to overturn the country's plain-packaging laws.
Philip Morris International fought a five-year legal battle with Australia to have the laws scrapped or to have the government pay billions of dollars in damages, arguing that its trademarks were being infringed.
The world-first laws were upheld by the World Trade Organization (WTO), paving the way for them to be adopted in other countries.
The rules, which were introduced by Australia in 2012, barred displays of all tobacco company logos and bright colours on cigarette packets, replacing them with drab colours and grim health warnings.
The Permanent Court of Arbitration, based in Singapore, ruled over the weekend that Philip Morris was liable to pay Australia's legal costs in defending the laws, along with an undisclosed percentage of the arbitration costs.
The US tobacco giant had argued that the amount claimed by the government was unreasonable for a "legal team that consisted primarily of public servants".
It pointed out that Canada and the US had never claimed more than $4.5m and $3m, respectively, in costs and fees in comparable cases.
The exact amount that Philip Morris is liable to pay to the Australian government has not been disclosed, but the Sydney Morning Herald newspaper reported that the compensation amount could be as high as A$50m (£30m).
"The tribunal does not consider that any of these costs claimed by the respondent were unreasonable and should not have been incurred," the court said in its ruling.
"In making this assessment, the tribunal also takes into consideration the significant stakes involved in this dispute in respect of Australia's economic, legal and political framework, and in particular the relevance of the outcome in respect of Australia's policies in matters of public health."