Tony Ferguson says he could shift his focus to Nate Diaz if he doesn't get the "assurances" he desires in talks over the Khabib Nurmagomedov fight.
Ferguson and Nurmagomedov have been scheduled to fight three times since 2015 but have still not met, with the latter pulling out of their UFC 209 interim lightweight title showdown hours before their weigh in after the Russian was hospitalised during his efforts to cut weight.
In a recent interview with RT, Nurmagomedov apologised for his withdrawal, taking full responsibility for March's debacle and outlining his plan to return to the Octagon in September.
Ferguson is still keen to meet the undefeated 29-year-old but says the manner in which March's bout fell through still riles him.
"I would love to have the fight, but putting up with the whole entire camp again, it puts a salty taste in my mouth," Ferguson told UFC Tonight. "It's like swimming in the ocean. You know it is good for you but it puts that taste in your mouth.
"It's like the Khabib fight where I can correlate that, because it is a fight that I want. I want this fight. The fans want this fight. I wouldn't mind training again for it, but there would have to be some assurances."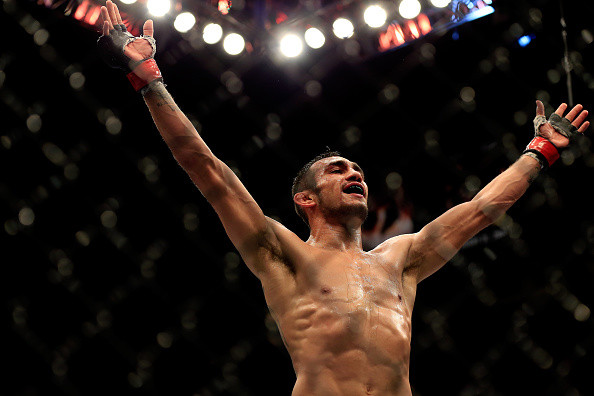 Ferguson's ideal next opponent however would be Diaz. The Stockton native has not fought since his UFC 202 defeat to Conor McGregor, with recent reports speculating a return could be pencilled in at UFC 211.
"The only person I would really like to go toe-to-toe with that probable needs some lesson taught is Nate Diaz. I'd love to go toe-to-toe with him. For anybody else out there, they really don't reserve a shot at fighting me. Myself, the fans, everybody else would love to see that fight. Battle of California, baby. Let's do this."
Ferguson is currently ranked No 2 in the lightweight ranks, with McGregor – currently on a hiatus with a boxing showdown with Floyd Mayweather Jnr possibly looming – currently holding the belt.