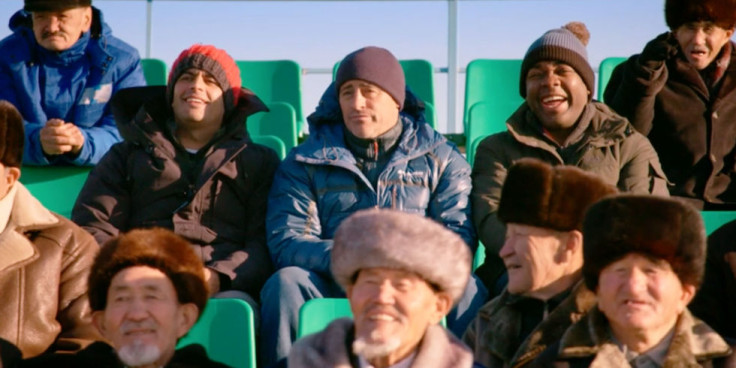 The new series of Top Gear was smooth sailing and was welcomed by viewers as the Chris Evans-less show has finally begun to find its feet since the post-Jeremy Clarkson revamp.
The BBC2 motoring programme – which found itself in troubled waters with Evans at the wheel last series – returned to screens on Sunday night (6 March) with Chris Harris and Rory Reid joining LeBlanc as co-hosts.
While the last series was subject of much social media and tabloid controversy – with many fans lambasting Evans' "shouty" hosting style – there was little complaint over the format of last night's first episode of series 24.
The show saw the new trio race across Kazakhstan in high-mileage bangers – a Mercedes saloon, a Volvo estate and a London Taxi. All of the vehicles had done at least 480,000 miles, proving to be vastly entertaining for viewers. Actor James McAvoy also took to the track.
Viewers took to social media in their droves to comment on the first episode, with one person tweeting: "This new series of top gear is quality but am sure so many won't give it a break because their so far up clarkson's arse #TopGear" as another put: "10 minutes in and I already know this series is better than the last #TopGear".
A third added: "#TopGear I was a bit doubtful about the new Top Gear but I really enjoyed the jokes and the final message of their adventure. Me like!!!!!"
Another said: I'm liking it! I've even laughed a little Plus.. far less SHOUTY which can only be a good thing & @Matt_LeBlanc is a natural #TopGear".
LeBlanc, 49, appeared comfortable without his former co-host and was called a "natural" at presenting the show. The viewing figures were a dramatic drop from the first episode of the last series, however, as it only pulled in 2.4m viewers, which is down from 4.3m.
There was one minor slip-up, as LeBlanc was clearly heard using the world "sh*t" pre watershed. After watching a game of the traditional sport of kokapr – which is a type of polo where a goat carcass is chucked into a goal – the disgusted Friends legend said: "I gotta say, this is right up there with some of the grossest sh*t I've ever seen," to an amused Harris and Reid.
Some viewers were quick to criticise the language, with one viewer tweeting: "It seems that #TopGear are going for the strategy of #MattLeBlanc swearing multiple times before the watershed to woo viewers - not for me".
Top Gear continues next Sunday at 7pm on BBC2.