Tories accused of contempt for media after Cornish journalists get 'restricted' access
Theresa May was in the south-west to shore up support for her MPs against the Liberal Democrats.
A news website in Cornwall has accused the prime minister's press officers of showing contempt for local media by restricting access to Theresa May as she toured a factory.
Cornwall Live, which is tied to the Cornish Guardian, the West Briton and the Western Morning News, complained that during May's visit to the Water-Mr-Trout industrial estate in Helston, its reporters were not allowed to stand outside to see the arrival of the prime minister.
It also said its multimedia reporter was not allowed to film and to ensure that, its reporters were shut in a room.
The website's live blog said: "Having covered several high-profile politicians' and royal visits over the years, the level of media control here is far and above anything I've seen before. We're not even allowed to show you her visiting the building".
Jacqui Merrington, the digital editor of Cornwall Live, told the Guardian: "This is certainly a different level in terms of restrictions. A number of us have had an experience with David Cameron and Tony Blair – this was much more restricted than we have seen in the past. David Cameron did a walk through the town with us in Penzance about three years ago. We were allowed full access to him for a 45-minute period."
However the Tories denied that a Cornwall Live reporter had been locked in a room, with a party spokesman saying: "One media organisation's last-minute request to add a camera to a pre-arranged pool of broadcast cameras was not possible this morning.
"The organisation's journalists did interview the prime minister and their photographer accompanied the prime minister on a factory tour. Theresa May has so far taken four times as many questions from journalists as floundering Jeremy Corbyn while his cabinet can't even answer basic questions about how they would pay for his nonsensical policies."
May had been accused of "hiding" from voters in Aberdeenshire after it was discovered her visit to a village hall had been listed as a child's birthday party.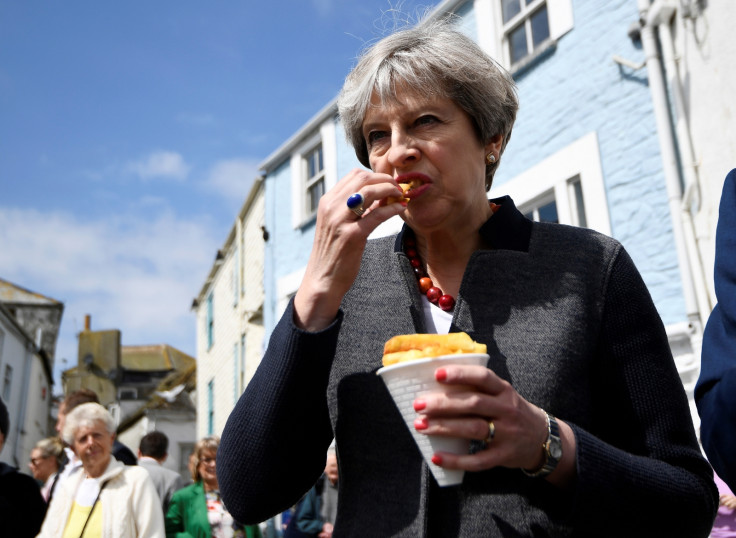 The Conservatives are focusing on the south-west amid concerns among some Tory MPs that their seats could return to the Liberal Democrats in areas which backed staying in the European Union.
Europe will be a key point in the election campaign in the south-west of the country, especially in areas that did not back Brexit.
The prime minister told the BBC that she would be a "bloody difficult woman" towards the European Commission head Jean-Claude Juncker during Brexit talks, amid reports that the pair have clashed.
"During the Conservative Party leadership campaign I was described by one of my colleagues as a bloody difficult woman. And I said at the time the next person to find that out will be Jean-Claude Juncker," she said, referring to a comment made about her by Tory grandee, Kenneth Clarke.
© Copyright IBTimes 2023. All rights reserved.