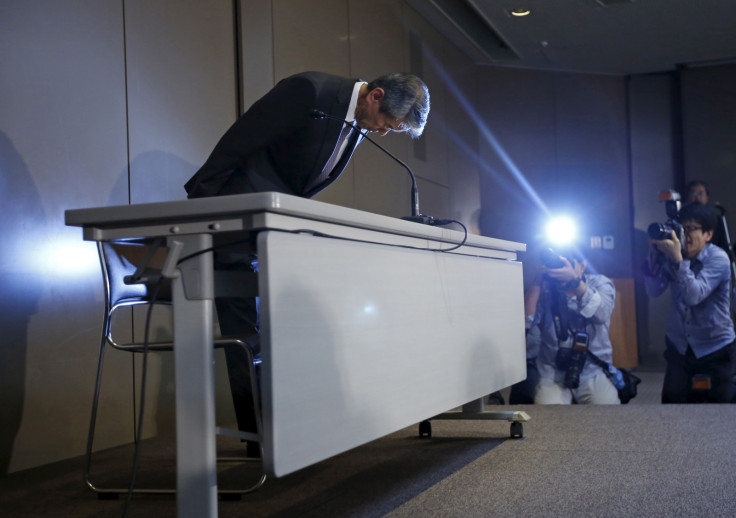 The boss of technology giant Toshiba, Hisao Tanaka, is stepping down over a ¥151bn (£780m, $1,22bn) accounting scandal which has seen the company's profits overstated for the past six years.
Also leaving with Tanaka is vice-chairman Norio Sasaki. Both men have been with Toshiba since the 1970s. Chairman Masashi Muromachi will take over running the company.
The company said in a statement: "It has been revealed that there has been inappropriate accounting going on for a long time, and we deeply apologise for causing this serious trouble for shareholders and other stakeholders."
Initial estimates by the company about the size of the overstatement were found to be about three times smaller than the actual amount, which was revealed by an independent investigation.
The inflated profits came to light during during a regulatory probe of the firm's balance sheet earlier this year. It will have to restate profits for the period between April 2008 and March 2014.
The Japanese finance minister, Taro Aso, said: "If [Japan] fails to implement appropriate corporate governance, it could lose the market's trust. It's very regrettable."
Toshiba is an iconic Japanese company, the roots of which date back to the 1870s. The name is formed from the melding of Shibaura Engineering Works and Tokyo Electric Company, which merged in 1939 to form Tokyo Shibaura Electric.
It became one of the great builders of Japan's corporate power in the 20th century.
Rating agency Standard & Poor's said that it has placed Toshiba on CreditWatch with negative implications following the results of the investigation.
S&P said: "The placement reflects our view that the revisions to reported profits may affect Toshiba's cash flow/leverage measurements beyond the degree to which the current ratings can tolerate.
"We believe the downward revision is likely to affect marketing activities in Toshiba's infrastructure business in the current fiscal year and onward. It will also inevitably cause turmoil in the marketing activities of other Toshiba business units and negatively affect business operations until the company rebuilds its system of management.
S&P said Toshiba's sales and profits are likely to stay below previous assumptions over the next one to two years.
"We revised our management and governance score on Toshiba to 'fair' from 'satisfactory' because we assess sub-factors, including board effectiveness and internal controls, as 'negative' under our management and governance criteria," said S&P.
The ratings agency said it would remove the ratings from CreditWatch after examining the size of the downward revisions and forecasting financial results for the next one to two years and seeing improvements to its management and governance.
"We may lower our ratings on Toshiba if major financial indicators for Toshiba remain weaker than commensurate with the current ratings. Specifically, this could be the case if funds from operations (FFO) to debt falls below 20% for the next one to two years and is unlikely to improve promptly,' said S&P.