Adebayor Forced to Train with Reserves as January Exit Looms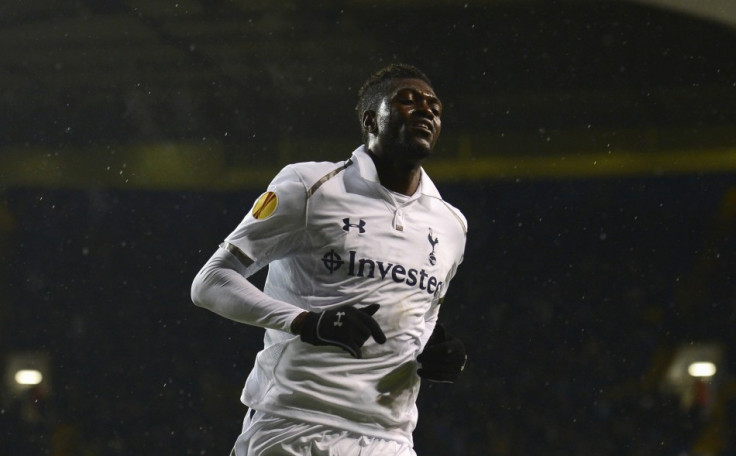 Tottenham Hotspur manager Andre Villas-Boas has banished Emmanuel Adebayor to train with the reserves and has indicated that the striker will receive limited opportunities in the first team this season.
Adebayor is set to return to the club after a spell back in Togo as he took compassionate leave but it seems that he will struggle to force his way into the plans of Villas-Boas and may eventually be forced to leave the north London club.
Spurs have scored just two goals in three Premier League games, with Roberto Soldado twice firing from the penalty spot. Despite their lack of cutting edge it seems Adebayor will not be considered by the Portuguese manager.
"There hasn't been any problem. There is a Monday return and the player [Adebayor] will continue to train with the development team," confirmed Villas-Boas at a Tottenham press conference. "At the moment it is something that we are not worried about. We are worried about winning against Norwich."
Adebayor had spoken of his desire to end the season as first choice at Tottenham but it seems Villas-Boas was keen to offload the striker in the summer, something he may well attempt to do when the window re-opens in January.
"There were opportunities, yes, for him to leave but he wasn't interested," added Villas-Boas. "We had to think about the situation so we presented the player and his agent with the situations."
Spurs only signed the player 12 months ago for £5m from Manchester City but it seems even young forward Harry Kane has now moved above Adebayor in the pecking order.
"Yes I think so, I'm pretty confident," he explained. "We have not only lots of players who can play out in the wing but also players who can play through the middle behind the striker. We have natural goalscoring ability with Soldado and Defoe, Harry Kane is doing extremely well also. At the moment we have the right options."
It seems likely from Villas-Boas' comments that Adebayor may well be allowed to leave in January and there is likely to be plenty of interest with the likes of Schalke and Besiktas both showing an interest over the summer.
© Copyright IBTimes 2023. All rights reserved.