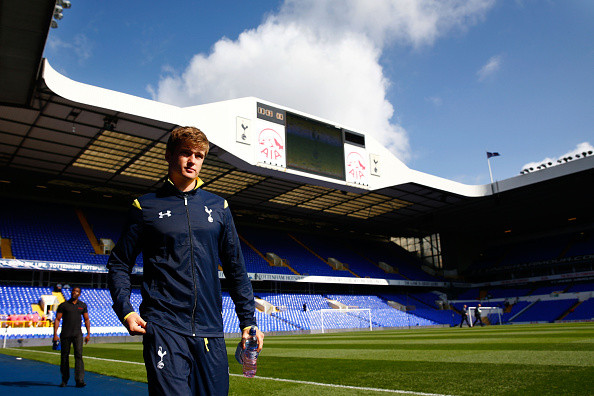 Eric Dier has said he feels like he is following in the footsteps of Cristiano Ronaldo did – albeit on a smaller scale – by reaching for the perfect mix of Portuguese technical and English physicality. The Spurs youngster has also revealed his secret for dealing with Chelsea bad boy Diego Costa –don't fight him, but instead be nice, as Diet did in last year's Capital One Cup final.
Dier moved to White Hart Lane in the summer of 2014 after making a name for himself with Ronaldo's childhood side, Sporting Lisbon. Although born in England, his family emigrated to Portugal when he was seven.
The 21-year-old progressed through the ranks at Sporting before, in January 2011, moving to Everton on loan for his first experience of the English game. Although his spell at Goodison was not an easy one, Dier admits it helped his development to follow Ronaldo's path by adding English muscle to the talent he had learned at Sporting.
"I am doing it on a much lower level than [Ronaldo]," Dier said during a long interview with The Guardian. "But for me, if you get 50% Portuguese and 50% English, it really is the perfect mix. My dad basically said I needed a kick up the backside. So I went to Merseyside, and you can never get a bigger kick up the backside than there, coming from Portugal.
"If I am completely honest, I absolutely... I didn't hate it but, at the time, I just thought: 'Get me out of here'," Dier says. "It was so different to what I was used to. The lifestyle, the weather, the place, the people... even the language was a factor. The Scouse accent was tough for me. And, in football terms, it was a lot more aggressive."
Nevertheless, the experience stood him in good stead when it came to adapting to life in North London. Dier has been one of the revelations of Spurs this season so far, excelling in a midfield role as opposed to the defensive positioning he undertook last year. However, he impressed on occasion as a defender, starting 25 Premier League matches and excelling in the Capital One Cup final, when he kept Diego Costa quiet.
The Blues hitman recently described himself as the new bad boy of the Premier League. However, Dier believes the way to handle the Spain international is to kill him with kindness, rather than start a battle.
"I think I handled Costa well," Dier said. "He is the kind of guy that you need to be nice to. I see all these people trying to fight him. I'm not sure that's the way to go. At the beginning, I wanted to make sure he knew I wasn't going to roll over but after that he seemed fine to me. Obviously, we both speak Portuguese and we spoke a lot during the game. It was all good-humoured. There wasn't any malice from either side."