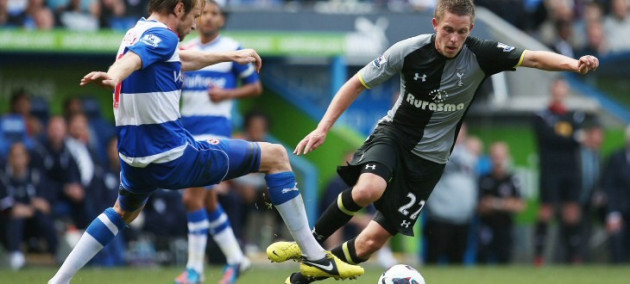 Tottenham Hotspur midfielder Gylfi Sigurdsson is confident the north London side will become more clinical in front of goal as the new season unfolds.
Spurs are unbeaten since the loss at Newcastle United in the Premier League opener and posted a remarkable victory at Old Trafford last week - the club's first in 23 years. Sigurdsson, who is one of several signings made by new boss Andre Villas-Boas in the summer, feels the team can only improve from here.
"Once we click we will be clinical. The signs are all there in our build-up play and the next step, consistent finishing, will be key. I look around me and see such quality that the goals...cannot be far away. Our approach makes that inevitable. It is not easy to create so many chances in the Premier League but that's what we're doing and it's great to be part of it," the Tottenham Web site quoted the Iceland international.
"As the season progresses and we get more used to one another, the goals have to come and I am determined to play my part in that. We all have a responsibility in front of goal, not just the strikers, and we have the pedigree throughout the team to score from all areas. It is certainly an exciting time to be a Spurs player and I love everything about being here," the Evening Standard quoted the 23 year old.
Dawson Upbeat despite Panathinaikos Draw
Spurs captain Michael Dawson insisted the club will stay positive following the 1-1 draw with Panathinaikos in an UEFA Europa League group game.
The England defender gave his side the lead at Athens before the break but a late strike from Toche salvaged a point for the Greek outfit, bringing an end to Tottenham's recent winning streak.
"We are definitely disappointed at ending up with a point. In the first half we played really well, passed the ball nicely and got the goal. We didn't keep our momentum going and gave the ball away too much. We are staying positive, though. We have some big games coming up and hopefully we can get back to winning ways," a UEFA report quoted Dawson.