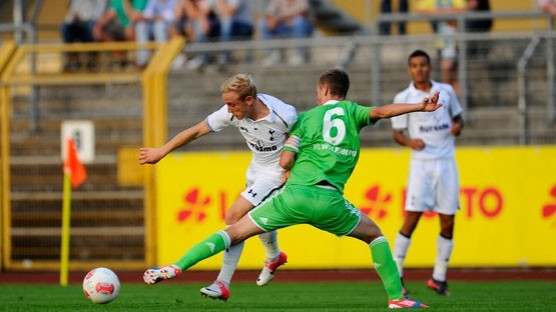 Swindon Town have secured the services of Tottenham Hotspur duo Massimo Luongo and Grant Hall on season-long loans, while Alex Pritchard is also set to join them at the County Ground.
Hall, a 22 year old defender, was signed by Tottenham in May 2012 from Brighton & Hove Albion on a three year contract. He played a number of games for the Under-21 side last season and is hoping that he can gain regular playing time at Swindon.
"I have really enjoyed my time at Spurs so far but I want to come here and try and impress the gaffer," Hall told the official Swindon website.
"I am not expecting to just walk into the side, but it's my first loan spell and if I can get some league football under my belt then that will be fantastic."
Hall will be joined by midfielder Luongo who spent time at Ipswich Town last season before completing another loan deal at Swindon where he scored one league goal in his 16 appearances.
The 20 year old made his first team debut for Tottenham back in September 2011 when he appeared in the League Cup victory over Stoke City. Now he is hoping to make another positive impression under Swindon boss Kevin MacDonald.
"It's good to be back here," said the Australian. "I went away for the summer and was waiting for the call to come down here and it's great to have everything sorted.
"I need games on my CV and this season should give me the chance to do that. The more I play the more experience I will be able to get.
"League One was a great learning curve for me last season. It helped develop my game and the Play-Offs taught me a lot too. I am really looking forward to getting back amongst things here."
The pair could well be joined by another Tottenham youngster after it was revealed that England Under-20 midfielder Pritchard could also be joining the League One side.
Pritchard excelled for Tottenham's various youth sides last season and was expected to make a big impact at Peterborough United after joining on a short term loan. However, injury curtailed his progress at the Championship club and his appearances were limited.
It had been though that the attacking midfielder may return to Peterborough but chairman Darragh MacAnthony believes he will instead move to Swindon.
"We want him and the boy wants to come to us," MacAnthony said on Twitter. "Spurs insisting he goes to Swindon. Nothing we can do I'm afraid."
All three will hope to gain regular first team football next season in order to prove to Spurs boss Andre Villas-Boas that they deserve opportunities at White Hart lane.