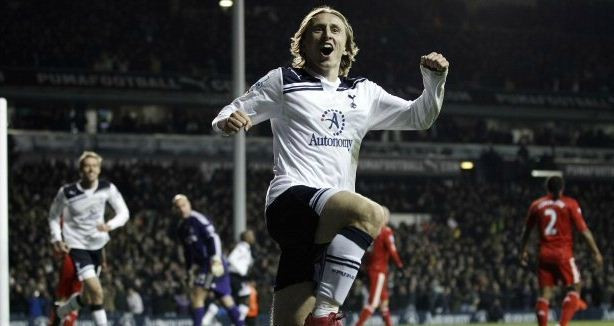 All the latest transfer news from Tottenham Hotspur for August 16. Tottenham are said to be ready to sign Manchester City striker Emmanuel Adebayor on a season long loan deal and they have been told that Chris Samba would be willing to join White Hart Lane. Harry Redknapp is said to be willing to listen to Chelsea's offer for Luka Modric if they agree to sell Solomon Kalou and Robbie Keane has said that David Beckham convinced him to join LA Galaxy.
The Daily Mirror has claimed that Harry Redknapp is under orders to make his next Tottenham signing a striker.
Spurs chairman Daniel Levy is said to be running the clubs transfer activity closer than ever this summer and will start Tottenham's transfer in earnest with the capture of Manchester City outcast Emmanuel Adebayor.
The Togolese forward has been told by Roberto Mancini that he can leave Etihad Stadium this summer and Tottenham are ready to swoop for the striker. Tottenham are said to have agreed a deal with Manchester City and that needs to be negotiated is the player's huge wages. Tottenham could end up paying £5m for the player in a season long loan deal.
Robbie Keane has revealed that David Beckham convinced him to join LA Galaxy.
Speaking after the conformation of his transfer to Los Angeles, the Republic of Ireland captain says that a conversation with David Beckham convinced him to join the club.
"I am delighted, honoured and very excited to be joining the LA Galaxy," Keane told The Galaxy's website. "I have always wanted to come and play in MLS so it's the perfect combination for me and a dream come true," Keane said.
"My family and I have already been made to feel very welcome in telephone calls from (Galaxy owner) Tim Leiweke and (manager) Bruce Arena. Also when David Beckham came and trained at Spurs (in January) recently he couldn't speak highly enough about the Galaxy, their fans and the league in general, so I can't wait to get over and get started," Keane continued.
The Sun reports that Chelsea will return with a £30m plus offer for Luka Modric and offer Tottenham the chance to sign Ivory Coast striker Salomon Kalou.
The newspaper claims that after watching his sides drab 0-0 draw with Stoke, Andre Villas-Boas has made it clear that he needs a creative midfielder and has made Modric the man to get. Tottenham have dug their heels in over a possible transfer all summer but it has been reported by the English tabloid that Harry Redknapp's stance may be softening.
Harry Redknapp is said to be a keen admirer of Kalou and would be willing to do a deal with Chelsea of cash plus player if Kalou is willing to join White Hart Lane.
Blackburn manager Steve Kean has admitted that Chris Samba's head has been turned by Arsenal and Tottenham's interest the Sun reports this morning.
Chris Samba has been subject of transfer speculation all summer and has been quoted as saying he wants to leave Ewood Park this summer.
"There's been a lot of speculation and that could affect him," Rovers boss Steve Kean said.
"There have been enquiries but we haven't had any firm bids. It's very important to keep Chris. We have sold Phil Jones and we don't want to lose him," he continued.
It is also suggested by the tabloid newspaper that Tottenham has become the favourites to sign the player and could be close to offering the club the full £12m they value their defender at. However, Steve Keane has said that the priority for the club for the remainder of the transfer window is to keep their best player, including Chris Samba.