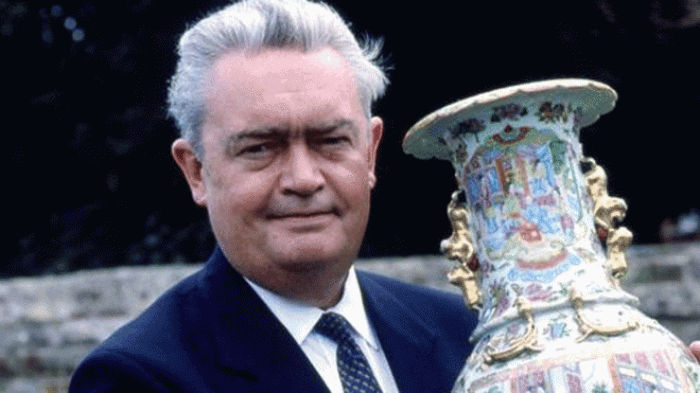 Tributes are being paid to two giants from television's "Golden Age" of the 1970s, following news that BBC presenter Hugh Scully and ITN newsreader Gordon Honeycombe have both died. Scully, 72, died in Cornwall on Thursday (8 October) and Honeycombe, 79, died in Australia today (9 October).
Scully joined the BBC in 1965, co-presenting Nationwide before joining the Antiques Roadshow which he co-presented for 19 years before resigning to join an antiques auction house. It had been feared the new position may compromise the programme's neutrality. On leaving the show he said: "I have particularly enjoyed my long association with the Antiques Roadshow, which has always been a delight and one of the best jobs in broadcasting."
BBC Media and Arts correspondent David Sillito tweeted: "Sad news - the BBC TV presenter Hugh Scully has died. 19 years on Antiques Roadshow and of course Spotlight and Nationwide in the 70s."
Newsreader Gordon Honeycombe, who was also a successful author, worked for ITV between 1965 and 1977, later returning to read the news on TV-AM in the 1980s. He had lived in Perth, Western Australia for some years and according to ITV had been suffering from leukemia.
Fellow ITV presenter Mary Nightingale tweeted: "V sad to hear Gordon Honeycombe has died. Total professional & gentleman with whom I was thrilled to present a programme in 1995 for #itn50."
Both Scully and Honeycombe were at their peak in the 1970s and 1980s, which many commentators now regard as TV's "Golden Age," before the rise of multiple channels, set top boxes and the internet. Light entertainment shows could attract 20 million viewers and the BBC and ITV News were essential viewing.