Trio Who Ran Brazilian 'Cannibal Bakery' Sentenced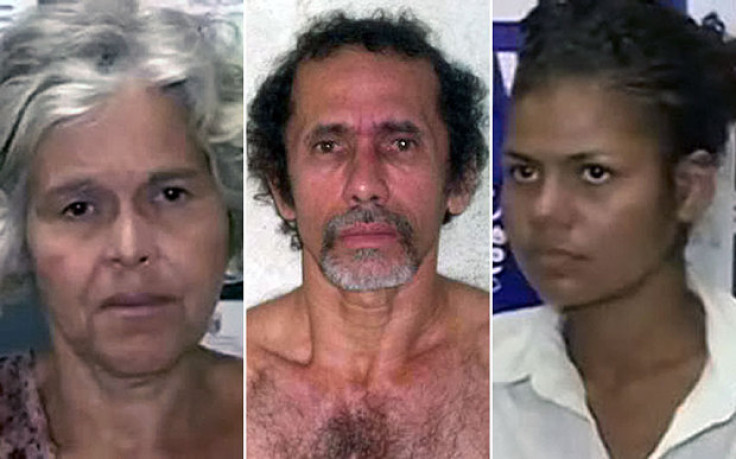 A Brazilian man, his wife and mistress have been handed long jail sentences for killing two women and making meat pastries from their bodies, eating some and selling others.
Jorge Beltrao Negromonte da Silveira was jailed for 23 years while his wife, Isabel Cristina Pires, and his mistress, Bruna Cristina Oliveira da Silva, each received 20-year terms.
The defendants lawyers said they will appeal the sentences.
An official at the court in the city of Olinda, on Brazil's northeastern Atlantic coast, said the seven-person jury handed down the sentences on Friday night.
The three were arrested in April 2012. And police said they confessed to the crimes.
The three reportedly told officers they belonged to a sect that preached "the purification of the world and the reduction of its population."
Police said they lured women into their home by promising them a job as a nanny, before murdering them.
Remains of the women were found in their home's backyard.
Authorities said that they cannibalised the victims, using their flesh to make pastries which they fed to a child who lived with them, and also sold to neighbours.
Police discovered a book written by Silveira in the home, entitled Revelations of a Schizophrenic, in which he said he was guided by voices to murder women.
In Pakistan recently, lawmakers introduced new legislation expressly outlawing cannibalism, after two brothers were found to have exhumed dead bodies to make curries.
It came after the re-arrest of convicted cannibal brothers Mohammad Arif Ali, 35, and Mohammad Farman Ali, 30, who allegedly dug up more than 100 corpses from the local graveyard in order to eat them, in April this year.
The Ali brothers were re-arrested after the head of a three-year-old boy was discovered in their home in the small town of Darya Khan in Bhakkar District in the Punjab.
© Copyright IBTimes 2023. All rights reserved.