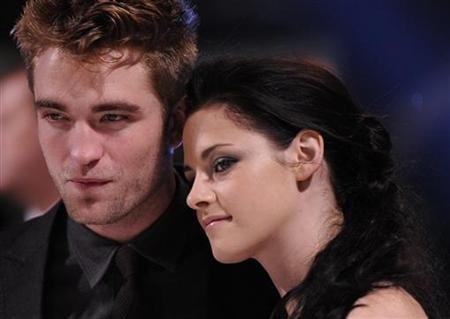 Hollywood actors Kristen Stewart and Robert Pattinson took their blossoming real-world romance to the next level, while essaying the roles of Bella and Edward, respectively, in the hit film, "The Twilight Saga: Breaking Dawn Part 1". In the film, the couple was married in the "wedding of the century". However, back in reality town, they are facing something of a crisis.
Reports suggest that although the two are enjoying professional success, Kristen is resisting a permanent shift to Pattinson's hometown in the UK because she is unsure of the reception from his family.
"Kristen doesn't feel accepted by Pattinson's parents," an insider told In Touch magazine, "She thinks his mom (Claire Pattinson) feels like she's just some girl who won't be around for long and so she never makes an effort."
"Kristen told Pattinson that if he wants her to move, he has to talk to his mother and tell her that she's (Kirsten) here to stay," the friend added, "It's the one thing that could break them up."
The pair recently bought an apartment in Notting Hill, a neighborhood in northwest London, with a reportedly breathtaking view of the city. The couple, rumored to be very much in love with one another, were publicly last seen together at the Marcus Foster concert in Camden, London.