True Detective Episode 7 Review: After You've Gone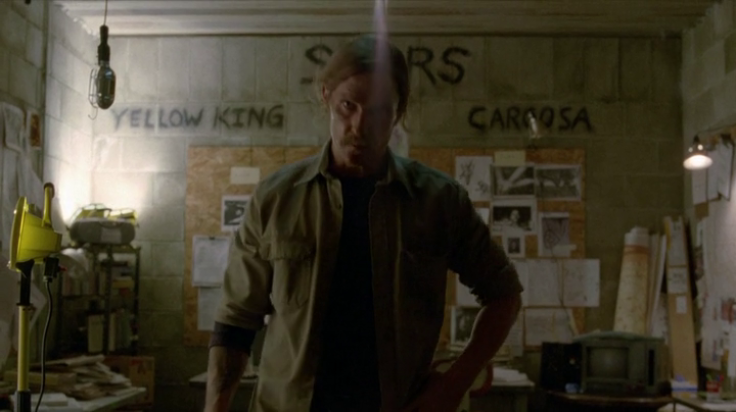 As True Detective enters its endgame, a lot of the elements that made it stand out from the crowd of crime drama have disappeared. The narrative flashbacks and moody discussions have been dispensed with by this episode to focus purely on the present day team-up of Hart (Woody Harrelson) and Cohle (Matthew McConaughey). It means that whilst this exposition-heavy hour of TV felt like filler, the show is now nicely set up for what will most likely be an explosive showdown in the series finale.
"Time's not been kind to you."

After seven years of not seeing each other, the two catch up with a beer at a bar. Hart tells Cohle, "Time's not been kind to you," but the years have hardly been good to either. The episode is imbued with real melancholy as it shows how each of their lives has slowly fallen apart over the years; Rust the unkempt loner who has doggedly pursued the case whilst living out of a trailer, and Hart the pathetic middle-aged man who without his family stays at home eating ready-cooked meals.
It means that the mystery behind the Yellow King in the Dora Lang case is all the two have to live for. As Cohle explains to Hart, "You owe a debt". Hart's reluctant, and cautious, prepping his gun as Cohle takes him to a secluded storage unit turned detective's office. It's the kind of lair, plastered with maps and notes related to the case, that you'd expect from the frenzied mind of a man who Hart notes, "has spent too long on your own".
"You owe a debt."
From obtaining a horrific videotape from one of Tuttle's mansions of the kidnapped Marie Fontenot being sacrificed, they appear to have the vital evidence of the big religious conspiracy Cohle believes took place. But in order to find the man with the facial scars, "the spaghetti monster" as described before, Rust will need the help of Hart's private detective agency.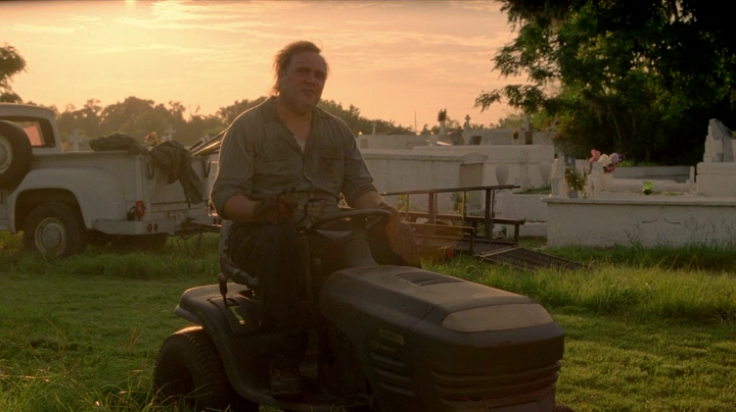 Is this the Yellow King?
HBO/Sky Atlantic
Through their investigations they find that Hart's old cop friend Steve Geraci (Michael Harvey), who is now a parish sheriff, handled the disappearance of the Fontenot girl in 1995. It takes Hart's smooth talking to bring him in, catching up over a round of golf before luring him out for some isolated fishing on the Louisiana lake.
"My family's been here a long, long time."
Then a final twist at the end, as when present day detectives Papania (Tory Kittles) and Gilbough (Michael Potts) get lost looking for the rural church, they encounter the caretaker (Glenn Fleshler) on the lawnmower Rust met before. The camera pans round closer to reveal his scars as he chillingly says to himself, "my family's been here a long, long time".
So it appears we have our Yellow King, which means it's unlikely we'll receive any shocking twists such as Rust or Marty being behind the crimes. The question that remains is how systemic this satanic cult is, and even if former Governor Tuttle is dead, is it present today?
It's exciting to see the pieces slowly but surely start to fit together; but in a show that has already provided so many atmospheric moments, the lack of anything truly standout either in Pizzolatto's writing or Fukunaga's direction means this episode felt lacking to a certain extent. Hopefully they're being saved for the final episode as the show reaches its dark crescendo. As Rust says, "My life's been a circle of violence and degradation, as long as I can remember. I'm ready to tie it off".
© Copyright IBTimes 2023. All rights reserved.