Imagine Donald Trump as a WWE wrestler, packing punches and battling it out in the ring. At least that's what former wrestling champion Dwayne 'the Rock' Johnson has been fantasizing as he opened up about swapping jobs with 'The President' and being overwhelmed by the support for his supposed candidature.
In a recent interview, the Baywatch star revealed his ideas to see the US President as a Lycra-clad wrestler in action. "He'd give it a good shot, he'd do everything he could to come out on top," the 45-year-old actor said about Trump's imaginary stint as a WWE fighter.
Not just that, Johnson went on to imagine a fictional ring-name for Trump in case he ever decides to give wrestling a shot.
"He would have to be a VINCE McMAHON-type character wouldn't he – and let's be honest his wrestling name would have to be 'The President'," the multi-talented star told The Sun.
But before talking about the role reversal with President Trump, the actor addressed those swirling rumours about him running for the office in 2020. During the season finale of Saturday Night Live on 20 May, Johnson finally acknowledged the idea of his presidential candidature and added that his running mate should be none other than Hollywood actor Tom Hanks.
"Americans can only agree on two things: pizza and us," the Rock cheekily announced, to which Hanks added, "Together, we would get 100% of the vote. I would get the senior vote, because I fought in World War II. In like ten different movies."
While talking with The Sun, the actor once again responded to the chatter about his presidential run.
"So much has been made of me running for President these last couple of weeks – politics is not my business but it's been overwhelming the support I have got," he said, adding, "President Trump is the President – and what he must do is unite the country. But never say never for me."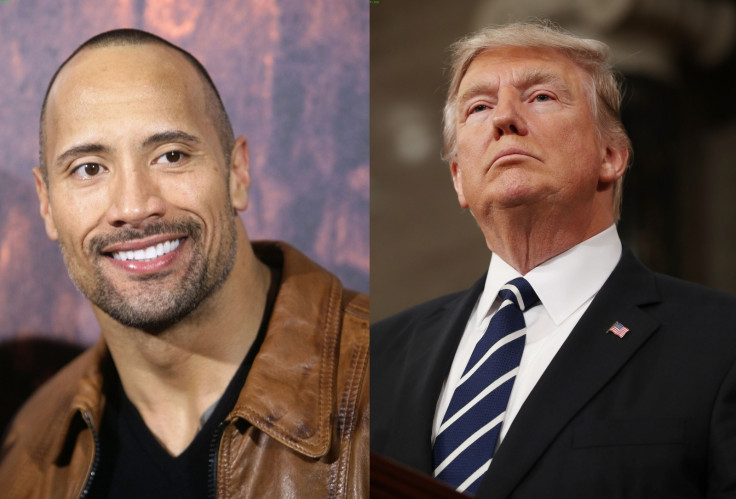 Meanwhile, Johnson has been actively promoting his upcoming film – Baywatch – which is scheduled for a 29 May release in the UK. Speaking about donning the iconic red trunk for the role of Mitch Buchanan, the former WWE star told The Sun, "I didn't envy the girls. I know they had a few issues with their swimsuits – there was glue applied to body parts and what not to keep things dignified but rest assured The Rock's junk stayed firmly in his trunk.
"Luckily I didn't see anything – all wardrobe malfunctions were done behind closed doors but The Rock is forever the gentleman anyway.
"The pressure is as great for the guys as it is for the women. That's Hollywood for you," he added.