With over 200 brands in 180 countries and more than 30 million customers, TUI Travel, the leisure travel company expects to see greater share of online bookings in 2012 and is scheduled to release its pre-close trading update on Thursday.
The group remains focused on its strategy of increasing the proportion of sales of differentiated and exclusive product, and on increasing controlled distribution with a focus on online to enhance its customer access and reduce distribution costs.
While the global recession and uncertain economic environment have had an effect on consumer travel spending habits, demand for leisure travel remains strong. The mainstream holiday market, its traditional stronghold, has seen a resurgence in a tough economic environment. The group has continued to modify its product offering in line with consumer preferences to include more differentiated and exclusive products as well as flexibility of duration.
Overall, outlook for the travel industry with a weak western European economy, fear of political unrest in North Africa and a cruise business hit by the Costa Concordia disaster, travel groups are looking at eastern Europe, China and corporate travel to brighten up 2012.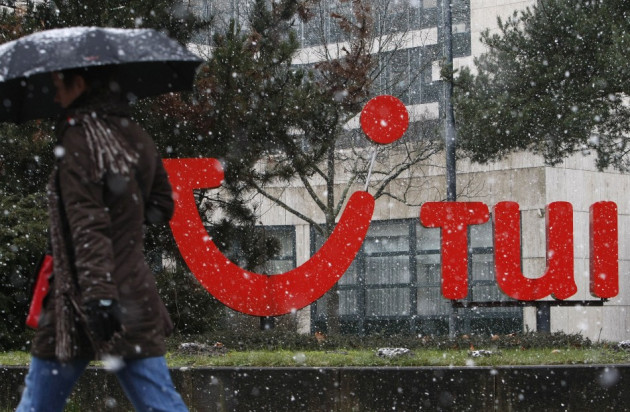 The United Nations World Tourism Organization (UNWTO) expects global arrivals of international travellers to increase by 3-4 percent this year, after a 4.4 percent increase to 980 million in 2011, with growth driven by emerging markets.
In 2011, an increasing number of consumers turned to online channels to research and book their holiday. The group expects this trend to continue into 2012 and beyond where its mainstream businesses expect to see an even greater share of online bookings. It, therefore, remains focused on improving its online presence, increasing its participation in social media and moving towards an online-driven company culture.
TUI Travel posted a first-quarter operating loss of £109 million ($172 million), but said it had out performed the wider British market as it had benefited from the problems of rival Thomas Cook, which required emergency funding from banks in November after a string of profit warnings.
The leisure travel company remains cautious about 2012, given the continued economic uncertainty in Europe, a slow recovery of demand to North African destinations, increased volatility in fuel prices and currency exchange rates. There is, however, every reason to believe that the demand for leisure travel will continue to experience robust growth in the long term. TUI Travel has already proved resilient in a challenging market environment and, with a heritage in leisure travel and a diverse range of experiences on offer, the company is well placed.
Peter Long, CEO of the group says: "Our performance remains in line with our expectations and the flexibility of our business model means that we are able to manage capacity to match profitable demand. In addition, our business improvement programme is progressing according to plan. These self-help measures, coupled with our strategy of increasing differentiated product, controlled distribution and online sales, will help us to deliver in the current challenging macro-economic environment."
Below is a summary of sector comparisons in terms of price earnings, earnings per share, dividend per share, dividend yields, return on equity and price-to-book ratio. The table explains how the company is performing against its peers/competitors in the sector. The table below represents ten companies based on market capitalisation.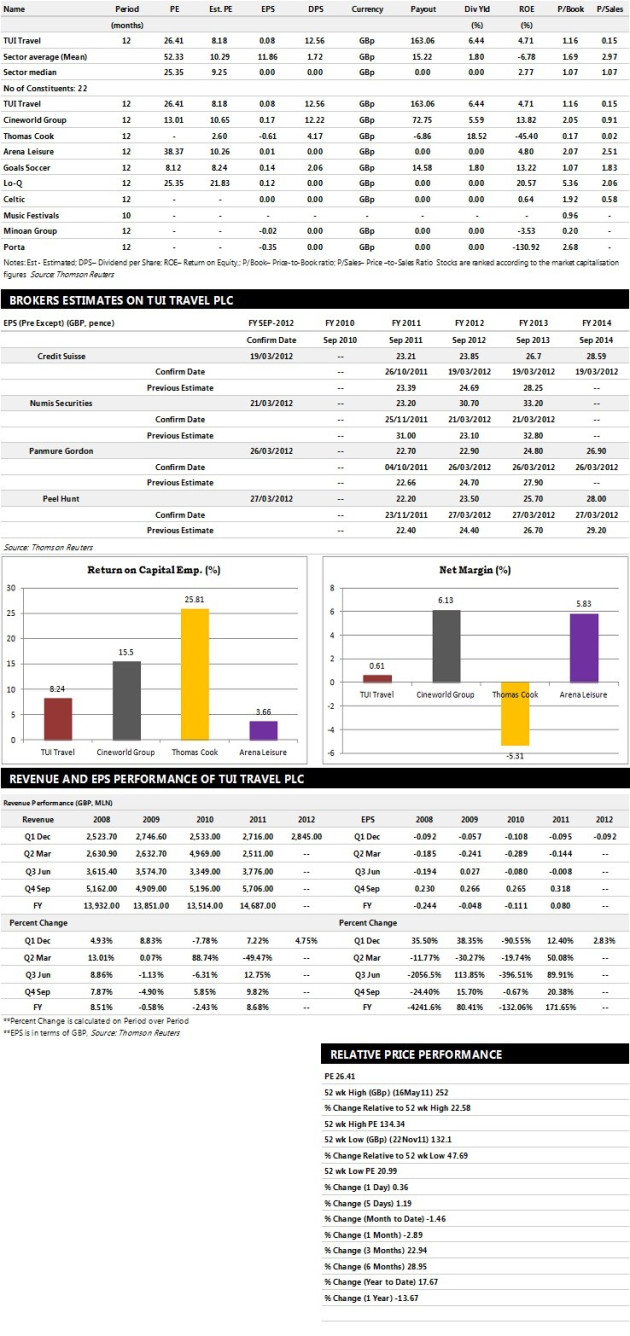 Brokers' Views:

- Peel Hunt recommends 'Sell' rating on the stock
- Panmure Gordon recommends 'Sell' rating
- Numis Securities assigns 'Buy' rating with a target price of 250 pence per share
- Credit Suisse assigns 'Hold' rating with a target price of 180 pence per share
Earnings Outlook:

- Peel Hunt estimates the company to report revenues of £14,531 million and £14,820 million for the FY 2012 and FY 2013 respectively with pre-tax profits (pre-except) of £363.90 million and £400.00 million. Earnings per share are projected at 23.50 pence for FY 2012 and 25.70 pence for FY 2013.
- Panmure Gordon projects the company to record revenues of £14,832 million for the FY 2012 and £15,182 million for the FY 2013 with pre-tax profits (pre-except) of £353 million and £383 million respectively. Profit per share is estimated at 22.90 pence and 24.80 pence for the same periods.
- Numis Securities expects TUI Travel to earn revenues of £15,350 million for the FY 2012 and £15,739 million for the FY 2013 with pre-tax profits of £494.90 million and £539.70 million respectively. EPS is projected at 30.70 pence for FY 2012 and 33.20 pence for FY 2013.