David Cameron has vowed that "terrorists will not succeed."
Speaking in the aftermath of the "savage" attacks in Tunisia, Kuwait and France, the Prime Minister said the British people face a "very severe threat from terrorism" but will not be defeated by it.
"These savage terrorist attacks in Tunisia, Kuwait and France are a brutal and tragic reminder of the threat faced around the world from these evil terrorists," Mr Cameron said.
He added that he could only imagine the "pain, and anguish and agony" of the holidaying families who bore the worst of the attack, some of whom are still missing, others who suffered injuries and loss of life.
"We'll do whatever it takes to help them," he said.
Addressing the security risks in the UK, Mr Cameron said: "There's no doubt we face a very severe threat in our country and we have done for many months and many years, but the level of the threat is identified independently of government and published in the proper way."
He said that if people worked together, were vigilant and supported the police effort, "we can combat this poisonous narrative of Islamist extremism that is radicalising too many young minds in our country.
"We have got to do all we can to help. That means co-operating and building our capacity on counter-terrorism, dealing with the threat at source whether that is Isil in Syria and Iraq or other extremist groups and we have to deal with this poisonous, radical narrative that is turning so many young minds. We have to combat it with everything we have."
He described Islam as a religion of "peace", and that the terrorists' atrocities are "in the name of a twisted and perverted ideology that we have to confront."
He said: "We must stop the poisoning of these young minds in our country, in other European countries and around the World."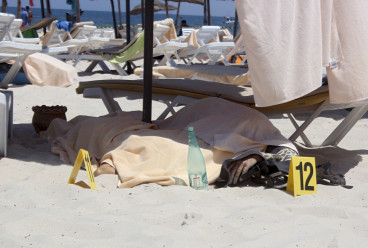 Extending his support to the people of France who were also targeted in a wave of attacks on what has now been dubbed Bloody Friday, he said: "Our hearts all go out to the victims of these appalling terrorist acts. I spoke to President Hollande and offered my sympathy and our solidarity with the French people at this time. We will speak later with the Tunisian government and again offer our sympathy and condolences and our solidarity in fighting this evil of terrorism."
"This is a threat that faces all of us. These events have taken place today in Tunisia and France but they could happen anywhere."
The Prime Minister was speaking after the Government's Cobra meeting in response to the Tunisian attack, where at least 15 Britons were killed.
The number of British victims is expected to rise as officials have warned that a majority of the 38 victims were from the UK.
Earlier, the UK Foreign Office Minister Tobias Elwood has described the terror attack in Tunisia as an "act of evil", and the most significant terror attack on British nationals since the July 7 2005 terror attacks in London.
Consular staff, police and experts from the Red Cross are due to arrive in the North African country today to provide support to the victims and their families.
Tour companies and airlines have been flying tourists out of Tunisia and home to the UK, with a number of airlines and tour operators cancelling bookings to Tunisia.