Flying cars are not the answer to city congestion, says Elon Musk. Instead, a huge 3D network of tunnels – dug underground and housing 125mph electric sleds – will reduce traffic, dramatically improve inner-city transport and cut pollution.
The billionaire and serial entrepreneur has revealed more details about his new venture, The Boring Company, which he will work on alongside his electric car company Tesla, rocket manufacturer SpaceX, and brain-computer interface initiative Neuralink.
A new frequently-asked-questions section of the company's website outlines why Musk has created The Boring Company, what its goals are, and how he plans to make these goals a reality. As is often the case with Musk, his plans for disrupting the tunneling industry are remarkably simple.
Making roads 3D
The company states: "To solve the problem of soul-destroying traffic, roads must go 3D, which means either flying cars or tunnels. Unlike flying cars, tunnels are weatherproof, out of sight and won't fall on your head. A large network of road tunnels many levels deep would fix congestion in any city, no matter how large it grew (just keep adding levels)."
The key to making this work, the company says, is increasing tunneling speed and reducing the cost by a factor of at least 10. The company claims tunnels currently currently costs up to $1bn (£770m) per mile, a figure it believes it can reduce by up to four times.
A race with Gary the snail
Speed is also a major problem with current boring technology, Musk's company claims: "A snail is effectively 14 times faster than a soft-soil TBM [tunnel boring machine]. Our goal is to defeat the snail in a race." The snail in question is called Gary and is The Boring Company's office pet, Musk explained in a recent Instagram post.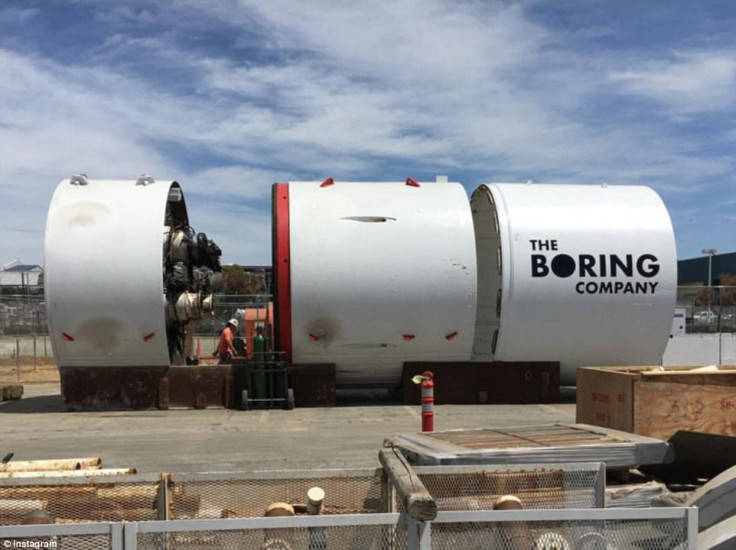 Drawing from experience earned at Tesla, his electric car company, Musk proposes to ditch the diesel locomotives normally used by boring machines in favour of electric motors. He also wants to automate much of the boring process, further improving safety and efficiency. "The construction industry is one of the only sectors in our economy that has not improved its productivity in the last 50 years," the company said.
These tunnels would at first be used for electric sleds capable of carrying vehicles at 125mph, but in the future the tunnels could be used for a hyperloop system, with trains traveling at up to 600mph in a near-vacuum – another Musk idea currently in development.
One way to solve traffic, the company proposes, is to 'go up' with flying cars. However, it reasons that "flying cars have issues with weather, noise, and generally increase anxiety levels of those below them." The other option is to 'go down' and build tunnels. "There is no practical limit to how many layers of tunnels can be built, so any level of traffic can be addressed," The Boring Company claims, adding: "Tunnels are weatherproof. Tunnel construction/operation is silent to anyone on the surface. Tunnels don't divide communities with lanes and barriers."
Brick by brick
The dirt excavated by boring machine is usually taken to offsite disposal locations in a process which The Boring Company claims is "time-consuming, noisy and can be environmentally hazardous." To address this, Musk will investigate ways to turn the dirt into bricks, to be used in buildings nearby or to form the tunnel lining, which is usually made from environmentally-damaging concrete.