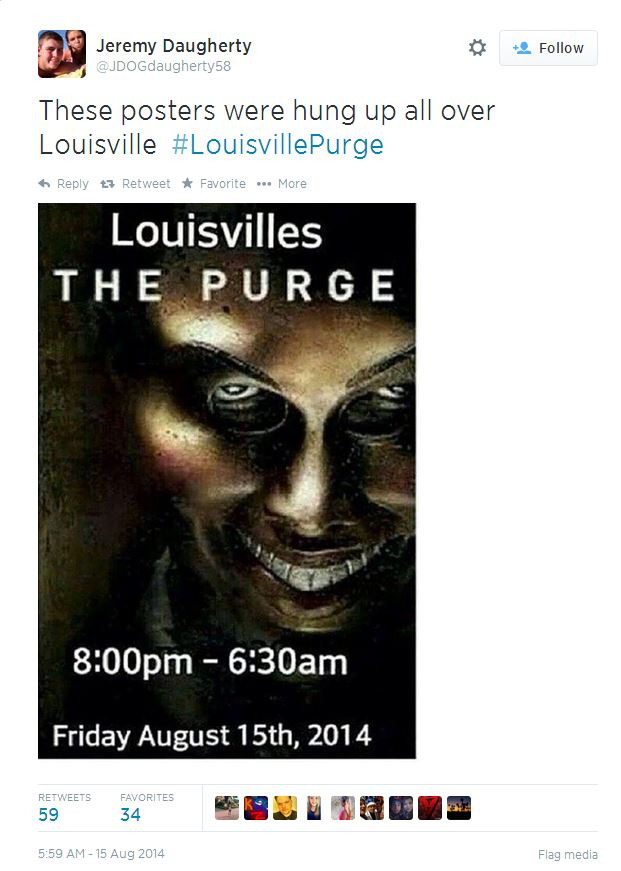 A teenager who was inspired by a Hollywood film to start a crime spree in his hometown of Louisville, Kentucky, has prompted a response from the FBI.
The film released this year, titled: Purge: Anarchy, depicts a society in which any crime can be committed during a special 12-hour window, including murder. The premise of the film is that the anarchic splurge will have a cathartic effect on the populace for the rest of the year.
But the unidentified teenager used the film's concept to call for a real life "purge" in his hometown on Twitter, and the idea was circulated by other students from the same city.
He posted: "Whos trying to get a Louiseville Purge started with me? [sic]"
People quickly jumped on the idea, tweeting a mocked-up flyer resembling the film's promotional material and pitched the event for the night of Friday 15 August. One poster claimed to have seen the image transposed onto posters and "hung up all over Louisville".
The tweets came to the attention of local police and the FBI, who said they were taking the threats seriously. High school American football games in local schools were reportedly cancelled and many listened to live police radio communication (which is available online) for updates on whether a "purge" event would take place.
The hashtag #louisvillepolicescanner was mentioned more than 100,000 times on Twitter.
Fortunately, the much-hyped event led to no spike in recorded crime and the day passed without major incidents that could be linked to the original Twitter posting.
Two fatal shootings took place in Louisville last Friday night but neither could be linked to the social media hoax.
Dwight Mitchell, a Public Information Officer with the Louisville Metro Police Department, told the BBC: "Luckily nothing was reported that had anything to do with a 'purge'."
Local police have now tracked the teenager down, but have chosen not to press charges.
Since the incident in Louisville, flyers have reportedly been seen advertising "purges" in several other US cities, though none have since been considered a legitimate threat by the authorities.