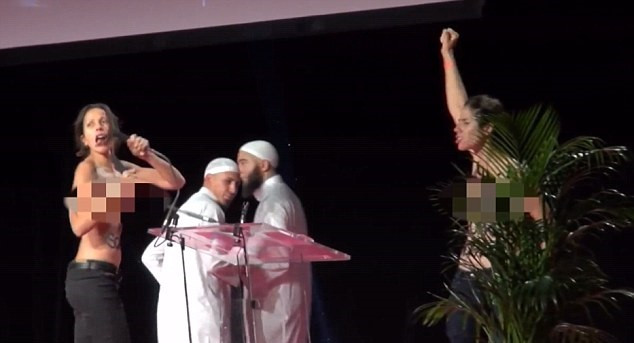 Two topless feminist protesters caused a sensation when they stormed a Muslim conference in Paris. The women shocked organisers and guests when they jumped on stage at the event in Pontoise, naked from the waist up.
The unnamed women, aged 25 and 31, grabbed microphones and began shouting out and punching the air as they took over the stage. Both had messages written in black ink across their chests which translated, read: "Nobody makes me submit".
The two men leading the conference retreated to the back of the stage as the furore happened. The first woman was carried off stage by a security guard. Seconds later the second woman was dragged away by more men. Footage shows one of the men kicking the woman while she was on the ground.
Following the disturbance the event descended into chaos. The identities of the women is not yet apparent, but reports suggest that the activists were part of Femen. The Ukrainian group is notorious for using nudity to protest against governments and organisations.
Earlier this year, Femen activists disrupted a May Day speech by French far-right leader Marine Le Pen by making Nazi salutes and drowning her out with a bullhorn. In Paris, two activists had also ambushed a ceremony as the National Front leader laid a wreath in honour of Joan of Arc.