Typhoon Haiyan, locally known as Yolanda, is believed to have claimed at least 10,000 lives in the central Philippine province of Leyte alone, a local police official has said.
"We had a meeting last night with the governor and based on the government's estimates, initially there are 10,000 casualties [dead]. The devastation is so big," Chief Superintendent Elmer Soria told reporters in the provincial capital Tacloban.
Leyte, which shelters about 1.7 million people, was one of the provinces which have directly bore the brunt of Haiyan's fury. Between 70 and 80% of residential buildings in the province are estimated to have been devastated by the super-typhoon.
The death toll in the city of Tacloban alone "could go up to 10,000", said the senior government official Tecson Lim.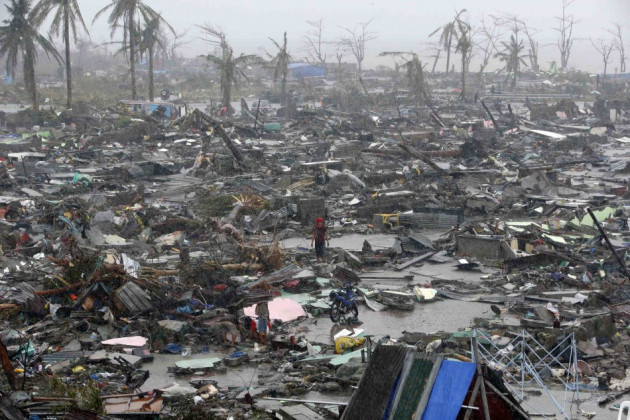 This is a sharp increase from an earlier estimate by the Red Cross which said at least 1,200 people have been killed by the typhoon.
Most of the deaths appear to have occurred due to drowning in sea water and by falling debris from buildings. About 300 dead bodies have been recovered so far and many are thought to be buried under the rubble.
The category-5 storm which barrelled through the Philippines was one of the most powerful cyclones ever to hit the landmass.
"The rescue operation is ongoing. We expect a very high number of fatalities as well as injured. All systems, all vestiges of modern living - communications, power, water - all are down. Media is down, so there is no way to communicate with the people in a mass sort of way," Interior Minister Mar Roxas said after visiting Leyte.
He added: "From a helicopter, you can see the extent of devastation. From the shore and moving a kilometre inland, there are no structures standing. It was like a tsunami. I don't know how to describe what I saw. It's horrific."
Government authorities are struggling to restore power supply and transportation besides distributing aid.