Typhoon Neoguri is set to batter Japan as tens of thousands have been evacuated and scores of flights remain cancelled.
After being reduced from super-typhoon status to typhoon, the weakened storm is forecast to pass over the Okinawa chain of islands later in the day.
The storm is expected to be at its peak when it passes over Okinawa, which is about 1,600km from Tokyo, where the US has several military facilities.
About 500,000 people have been told to evacuate as the powerful typhoon packs high-velocity winds and torrential rain.
The Japan Meteorological Agency [JMA] warned that although the storm has slightly weakened, it could potentially cause a disaster. The agency has also issued alerts to Miyako and Ishigaki islands apart from Okinawa's main island.
At noon local time, the eye of the storm was moving at a speed of 25kmph with gusts of about 250kmph towards north.
"There is a risk of unprecedentedly strong winds and torrential rains. Please refrain from nonessential outdoor activities," JMA official Satoshi Ebihara told reporters.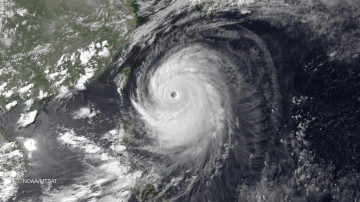 The typhoon is expected to generate waves up to 14 metres high. In the storm's path, there are two nuclear plants, one each in Kyushu and Shikoku islands. The facilities have been shut down and steps have been taken to tighten the security at the plants.
"When the wind blows most strongly, it's impossible to stand. You have to hold on to something. The lights are fading in and out, like the house is haunted. The rain is getting stronger and falling sideways," Kei Shima, an Okinawa resident, told Reuters.
The Tokyo administration scrambled an emergency meeting at which the local governments were asked to to take all precautionary measures.