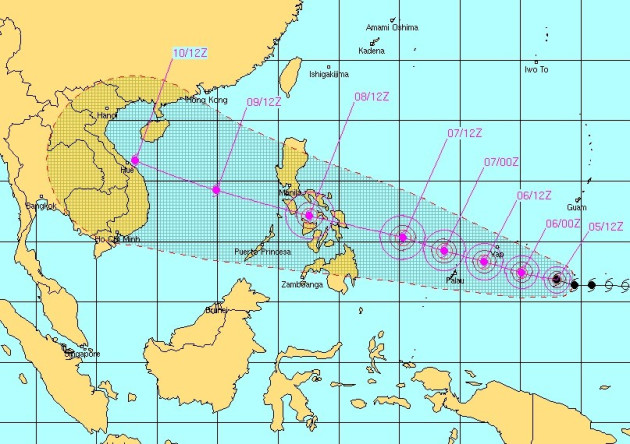 The Philippines is braced for a strengthening typhoon set to lash the South East Asian country later this week.
According to Weather forecasts, Typhoon Haiyan, locally named as Yolanda, is to make landfall over the central Philippines on 8 November and risks causing flood and mudslides.
Currently hovering over the Pacific Ocean, north of New Guinea, the storm is rapidly moving northwest at a speed of 25kph.
Haiyan's 150km/h winds are gusting at 185km/h but is approaching super-typhoon status with gusts predicted to reach 295km/h.
"It is moving through an area of warm waters and low wind shear which is expected to help the storm strengthen," according to Nasa weather reports.
Philippines authorities have alerted civil defence forces in Manila's metropolitan area and the provinces of Calabarzon, Mimaropa, Bicol, Western Visayas, Central Visayas, Eastern Visayas, Caraga and Northern Mindanao.
"Haiyan will rival Utor as the strongest typhoon to hit the Philippines this year," stated AccuWeather.com Meteorologist Eric Wanenchak.
Three typhoons - Nari, Utor and Krosa - have struck the Philippines this year, all causing deaths and extensive damages.