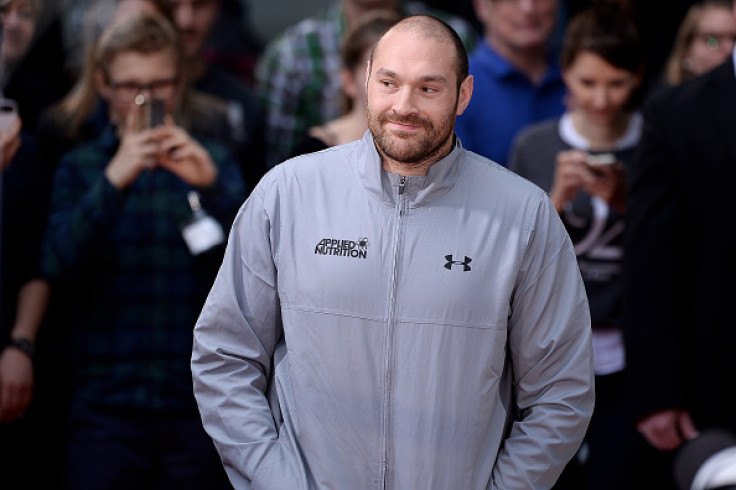 Boxing world heavyweight champion Tyson Fury has revealed that he will not delay his much anticipated rematch with Ukrainian Wladimir Klitschko if his baby is born close to the date of the fight. The boxer's wife Paris is currently seven months pregnant with their third child and could give birth close to 9 July, the date on which he is scheduled to fight Klitschko.
The 27-year-old admitted that he is excited at the prospect of welcoming a third child into his family, but his focus is only on one thing.
"I think I am going to call it Tyson Fury Jnr. It's due around July and the fight will not be stopped because of the birth. It's not going to very hard having this at the same time and I'm only going to focus on the fight," Fury said, as quoted by Daily Mail.
"There is no chance of me pulling out of the fight, my message to my fans is keep tuned and keep watching."
The Brit, who holds the World Boxing Association, the World Boxing Organisation and the International Boxing Organisation titles, is scheduled to face Klitschko in a re-match of their world heavyweight boxing title fight on 9 July at Manchester Arena, England.
Fury, who sparked controversy at a recent promotional event, claiming he was fat, has admitted that it will be tough to shed the extra weight saying that he will need to work extra hard to get rid of it.
"There will be no drastic changes, just the same stuff we always do. I've already started training and it's four times a day, six days a week. I've got another three stone to get off, it's really hard and I've got to train very hard for it."
The controversial boxer won the last bout between the two on 28 November, 2015 at Dusseldorf, Germany.