UCC shooting: Oregon gunman Harper-Mercer 'handed box to survivor', says witness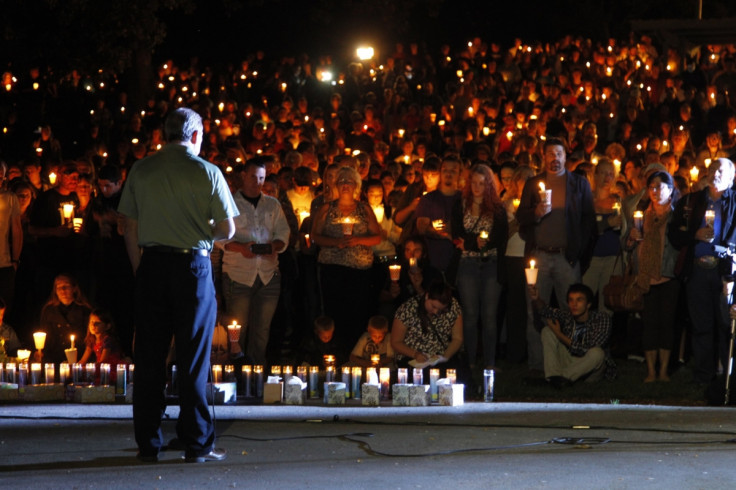 Oregon college gunman Chris Harper-Mercer allegedly handed a box to a survivor during the shooting, CNN reported. Anastasia Boylan, who was injured in the shooting, said that the mass killer gave somebody who survived a box, and said, "You've got to deliver this," according to Boylan's father Stacy.
However, Boylan said he doesn't know what was in it. "Somebody has a box. I don't know what that's about," Stacy said.
The shooting at Umpqua Community College in Roseburg left nine people dead and nine more injured on Thursday, 1 October. CNN reported that police confirmed the shooter handed out something during the shooting.
He is said to have given a survivor his writings and told the person to give them to police. The authorities could not confirm whether the writings were in a box.
Police have revealed that the shooter identified with perpetrators of past shooting rampages, including Elliot Rodger, who killed six people last year in Santa Barbara, California. Harper-Mercer expressed frustration that other mass killers did not take on police and vowed he would kill them along with others, law enforcement officials said.
'Child-like' mass murderer
As the US reels from the shooting, family members and neighbours are revealing more about the Oregon shooter. Harper-Mercer was a "paranoid" and "child-like" character, who circled his neighbourhood on a bicycle and "freaked out" at the smallest things, neighbours told the Daily Mail.
In one incident the 26-year-old threw a fit when he suspected someone had slashed the tires on his bicycle. He was so angry that he "freaked out like it was the end of the world" and screamed profanities at the top of his voice outside his home at an apartment block in Torrance, California.
Another former neighbour also said that he saw the saw the gun lover carrying a small Smith & Wesson handgun case just before he moved out of the small apartment in California two years ago.
Former neighbour Reina Webb, 19, told Daily Mail Online: "His main thing was using his bike. He rode it everywhere. It was a red cruiser.
"He was well-known locally because everyone knew he had that bike. There is a bike lot underneath my window where he would lock his bike.
"One day, someone had either slashed his tires or the tires had popped. He was screaming, 'F**k, f**k, f**k' and yelling and having a fit. I could hear him say, 'Mom, they've cut my tires.'
"He was freaking out like it was the end of the world. It was a crazy, crazy, fit. His mom was like, 'Calm down, calm down. It's OK.'
"But he would get that upset. After that his bike didn't move for ages. It was just locked up at the bike rack."
© Copyright IBTimes 2023. All rights reserved.