The deal that saw the Ultimate Fighting Championship (UFC) being purchased by US-based talent agency WME-IMG was yet another milestone for a sport whose popularity has reached incredible levels of popularity, despite being just over two decades old.
Launched in 1993 and derided as "human cockfighting" in its early days, UFC was acquired for $2m (£1.5m, €1.8m) in 2001 by Las Vegas casino tycoon brothers Lorenzo Fertitta and Frank Fertitta III, along with their brother-in-law Blake Sortini.
Fifteen years on, the Fertitta brothers have sold UFC for $4bn, a figure that would have been scarcely believable when they purchased the rights to the fighting competition. The increase in popularity has turned the sport from a niche product – whose fights were, at least initially, barred in a number of jurisdiction – into a global phenomenon.
Some 18,000 spectators packed the Las Vegas Arena on Saturday night (9 July) for UFC's 200th big-ticket event, resulting in ticket sales worth approximately $10.8m. UFC's broadcast rights deal with Fox ends in 2018 and negotiations for a new agreement, which could see ESPN pitted against rival ESPN will, in all likelihood, generate significantly more money than the seven-year deal it signed in 2011.
Bookmakers have swiftly seized on the sport's new-found popularity and UFC is now a multi-million pound turnover sport, whereas in the last few years it might have only generated interest in the low hundreds of thousands.
"It started out as a niche add on which we priced up purely to cater for a very small band of fans, and has now moved to become one of our major and fastest growing products for our recreational customer base," a spokesperson for Ladbrokes told IBTimes UK.
"Despite the anti-social hours the big fight nights are perfect for in-play betting and the fact that the fights are often much closer and more competitive than boxing and other combat sports helps drive it as a betting event."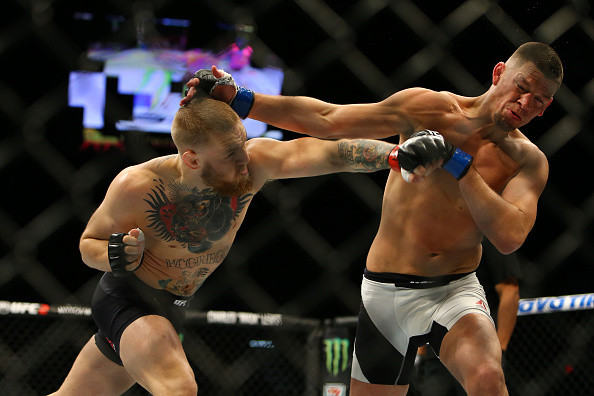 According to a spokesman from odds comparison site smartbets.com, UFC is the fastest growing sport in terms of clicks on their site and searches for UFC odds have grown over 1000% within the last two years.
The fact the majority of UFC fights are scheduled in the US has not troubled British punters either, as the sport becomes the main attraction at night for UK-based viewers.
"If anything the timing helps as there is nothing else on in the small hours to compete for betting attention and if something is worth staying up for, you are probably a bit enough fan to have a view and want to have a bet as well," the spokesman added.
The rise of the likes of Conor McGregor has also helped drive popularity as a betting event, while UFC's massive social media following has also boosted betting interest. Furthermore, the sport's growing profile has also begun to attract the occasional punter, in the same way that a big horse race, boxing match or other non-football sporting events might.
"This customer base will likely make a bet on a mobile device while watching the games, will bet in play and will also bet on accumulators throughout the card to provide interest in an entire night. It is this customer base which has really boomed within the last two years or so."